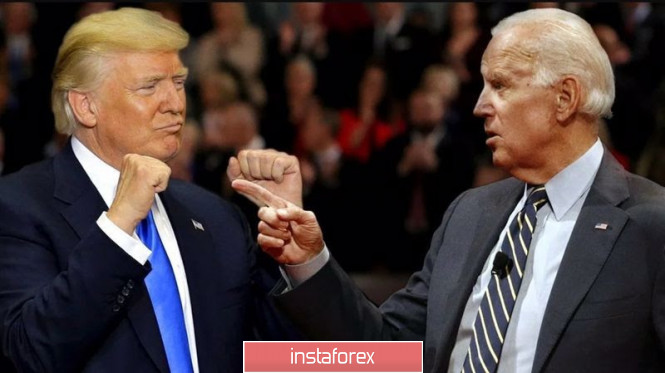 The first election debate between the presidential candidates Joe Biden and Donald Trump will take place in the United States today.
Opinion polls show that Biden is currently leading the way: on average, he is seven points ahead of his rival nationwide.
"If the debate weakens Trump's position and Biden maintains leadership, this could lead to investors abandoning the dollar," Mizuho Bank said.
However, analysts say that if Trump manages to close the gap, it will only increase the uncertainty about the outcome of the election and support the greenback.
"Since mid-September, the dollar has been recovering. However, it is not yet clear what the trend will be in October, "said Mizuho Bank experts, noting that market participants also closely follow any news about fiscal stimulus in the US.
Last night, Democrats unveiled a new $2.2 trillion economic aid bill to combat coronavirus, which was called a compromise measure.
"If this bill is approved before the November elections, it will support the risk sentiment," OCBC Bank said.
Traders are also awaiting the release of statistics to assess the state of the world's largest economy ahead of the elections. So, on Wednesday, the final estimate of US GDP in the second quarter will be released, and on Friday the US employment report for September will be released.
If the United States publishes positive macro statistics, it will help strengthen the dollar.
So far, hopes for a consensus between Republicans and Democrats on another package of aid to the US economy are pushing stocks up, and the greenback - down.
The dollar faced strong resistance around 94.6 points. Bulls have been attacking this level since the middle of last week, but at the beginning of this week the USD index is trading below this level again. According to experts, it is worthwhile to closely monitor the dynamics of the dollar and place bets on its further growth or a new fall already taking into account these dynamics and confident consolidation above or below the 94.6 mark.
The continued risk appetite of investors made it possible for the EUR/USD pair to overcome the 1.1700 level.
The euro was supported by data published on Tuesday, according to which the composite index of business and consumer confidence in the euro area (ESI) in September rose to 91.1 points from 87.5 points recorded a month earlier.
Further recovery in demand for risky assets will be a bad thing for the dollar and will aim for the EUR/USD pair at 1.1800.
Meanwhile, concerns about the epidemiological situation in Europe and the uncertain outcome of the US presidential election may return pressure on the major currency pair.
The material has been provided by InstaForex Company -
www.instaforex.com