4-hour timeframe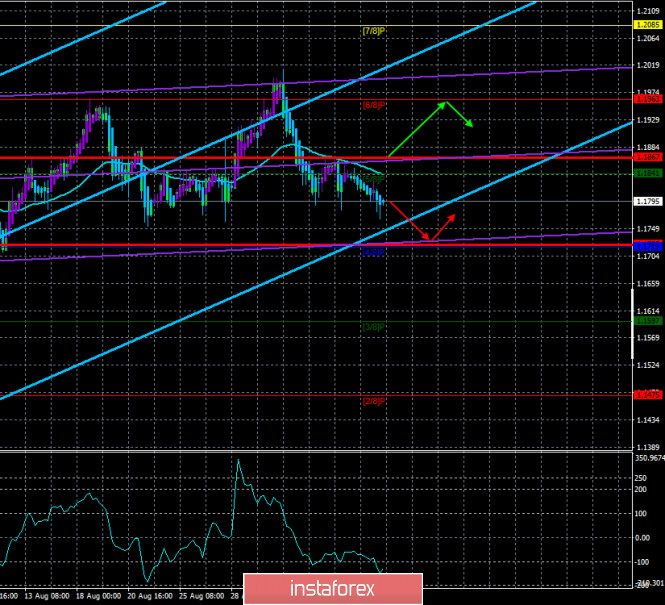 Technical details:
Higher linear regression channel: direction - upward.
Lower linear regression channel: direction - upward.
Moving average (20; smoothed) - downward.
CCI: -134.5105
The EUR/USD pair also passed in quiet trading with low volatility and minimal downward bias for the second trading day of the week. Unfortunately, market participants are still not able to decide at this time on the further trading strategy and are waiting for new important data that can tell them which way to trade the pair. Also, now is a very good time to trade the pound/dollar pair, where there is no lack of fundamental background. Therefore, some of the euro currency traders temporarily ran away to trade the pound. During the past three (or four) months, the EUR/USD pair has generally been getting more expensive. Moreover, it has been standing in one place last month. Thus, it turns out that euro traders are not in a hurry to get rid of long positions yet. Why? Because the situation in the States continues to be quite unsightly. Furthermore, there are many reasons for this. Starting with the "four crises" that we have been talking about for several months and ending with new potentially serious problems and the personality of Donald Trump, who seems to be doing everything to make more enemies in both inside and outside the country.
You can only be happy about one thing: the "coronavirus" epidemic in the United States began to recede. In recent weeks, there has been a clear decline in the number of new cases. Moreover, since we are talking about living and ordinary people, this is undoubtedly a positive fact for the country and its national currency. First, the weaker the pandemic, the more socially and economically active the country's residents will be. This means that business activity will grow and the economic recovery will proceed more quickly. People will be more willing to return to work, which means they will have to pay fewer unemployment benefits and "coronavirus allowances". In general, no matter how you look at it, the lower the unemployment rate and the weaker the "coronavirus", the better for the US and the dollar.
Unfortunately, this is all positive news from America. We return to the figure of Donald Trump, who resumed daily accusations and insults of everyone who does not support his policies and candidacy in the elections. First, China got it again. This time, Trump said that China does not want his re-election and interferes in the election to achieve a victory for Joe Biden. According to Trump, China incites protests, mass rallies, and riots in the United States, hiding behind racist scandals that provoked the "Black Lives Matter" movement. However, official US intelligence data does not confirm Trump's accusations against China like how they did not confirm his accusations earlier when the US president said that "China specifically infected the whole world with COVID-2019". Next came Joe Biden. Trump once again criticized the Democrat's plan to reorganize the energy sector, saying that "his plans are unrealistic" and he "will simply destroy the entire sector". Further, the US Department of Defense fell under the "distribution", which Trump also "rode like a roller", accusing them of inciting wars for the sake of enriching military enterprises. The US leader believes that leaders in the Pentagon specifically provoke or find conflicts around the world to enrich companies that produce weapons and military equipment. Trump named his priority for the second presidential term as "the return of American military personnel home". Also, Donald Trump again recalled Biden's mental abilities, saying that "he did not understand politics when he was in his prime, and even more so in his current state".
Well, the biggest criticism went to American companies that have located their production in China. Donald Trump believes that this way American manufacturers create jobs in the camp of the main enemy and competitor. If he wins the election, the president promised that he would return most of the production to the United States to "end dependence on China", as well as to create jobs in America. Trump promised that all companies that refuse to return home will be forced to pay high taxes to compensate for their departure to China. Those companies that decide to return home, on the contrary, will be subsidized. "If they can't create production here, then let them pay high taxes. We will prohibit granting government contracts to companies that export production to China. We will hold China accountable for allowing the coronavirus to spread around the world. They are strengthening their army with our money, and I don't want that," the American president said. "We will turn America into a manufacturing superpower and end our dependence on China once and for all. We can't rely on China," added Trump, who of course forgot that he had already promised to return American manufacturers before the last election and failed to return any major companies to the United States for 4 years. However, before the new election, Trump started an old record. We believe that Trump's actions are mostly destructive. The direct pressure on American manufacturers may lead to them leaving the United States altogether and producing their products outside of their borders. Because whatever tax benefits Trump offers these companies, it should be understood that the production of any goods in the United States is much more expensive than in almost any other country in the world. Especially if we are talking about developing countries with cheap labor. Thus, it will not be profitable for any company to move production to the United States, as this can increase the cost of production by 50-100%. Naturally, this will harm sales and revenue. Moreover, American workers will have to pay much higher wages than Chinese workers. In general, we do not believe that American manufacturers will return to the States. However, we believe that Trump can start a war against them. After all, Trump knows only a few ways to achieve his own goals: threats, direct pressure, and war. Thus, it is the US president who can contribute to an even greater decline or a slowdown in the US economy if he is re-elected for a second term.
This does not bode well for the US dollar in the long run. Against the euro, it is still holding off from a new fall and may even start to rise in price in the coming weeks. However, for a stronger strengthening than a correction, it is necessary to complete at least half of the crises that are currently observed in the United States.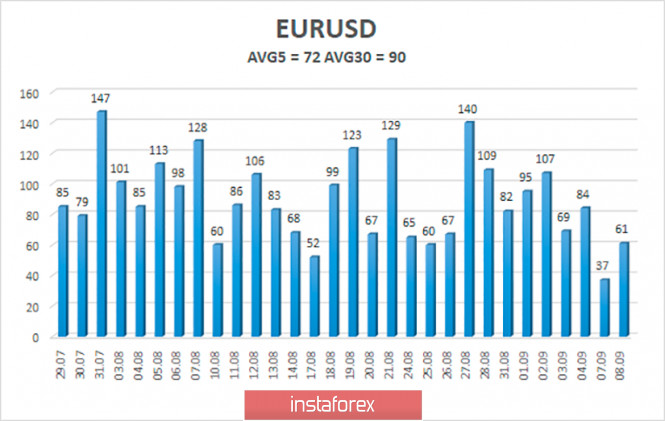 The volatility of the euro/dollar currency pair as of September 9 is 72 points and is characterized as "average". Thus, we expect the pair to move today between the levels of 1.1723 and 1.1867. A reversal of the Heiken Ashi indicator to the top signals a possible round of upward correction.
Nearest support levels:
S1 – 1.1719
S2 – 1.1597
S3 – 1.1475
Nearest resistance levels:
R1 – 1.1841
R2 – 1.1963
R3 – 1.2085
Trading recommendations:
The EUR/USD pair may continue its downward movement. Thus, today it is recommended to trade down with the targets of 1.1723 and 1.1719 and hold short positions until the Heiken Ashi indicator turns upward. If the price is fixed above the moving average, it is recommended to trade for an increase with the target of 1.1963.
The material has been provided by InstaForex Company -
www.instaforex.com