EUR/USD
Analysis:
A corrective wave has been forming in the upward wave of the European major since the end of July. It has the form of a shifting plane. Its wave analysis shows the completeness of the structure. Yesterday's upward price segment has a reversal potential. This may be the beginning of a new wave of the main trend of the pair.
Forecast:
Today, in the first half of the day, a flat movement is possible with a downward vector. The lower limit of the price range is shown by the calculated support. By the end of the day, you can expect a reversal and a sharp activation, with a repeated attempt to break through the resistance zone.
Potential reversal zones
Resistance:
- 1.1860/1.1890
Support:
- 1.1800/1.1770
Recommendations:
Until the upcoming pullback is completed, trading the euro in the market is risky. After clear signals of exchange rate change appear in the area of the support zone, it is recommended to buy the pair.
GBP/JPY
Analysis:
As part of the bullish wave that has been dominant since March, the corrective wave from July 31 ends. In recent weeks, it has turned from shifting to a stretched plane, reaching a strong zone of a potential reversal. The sideways flat that started on September 10 creates conditions for changing the short-term trend.
Forecast:
Today, the pair's sideways mood is expected to end and the price rally will start. If the upper limit of the nearest zone breaks, you can expect the exchange rate to rise to the next level today.
Potential reversal zones
Resistance:
- 137.70/138.00
- 136.60/136.90
Support:
- 135.60/135.30
Recommendations:
There are no conditions for selling on the pair's market. It is recommended to track reversal signals for instrument purchases in the area of settlement support.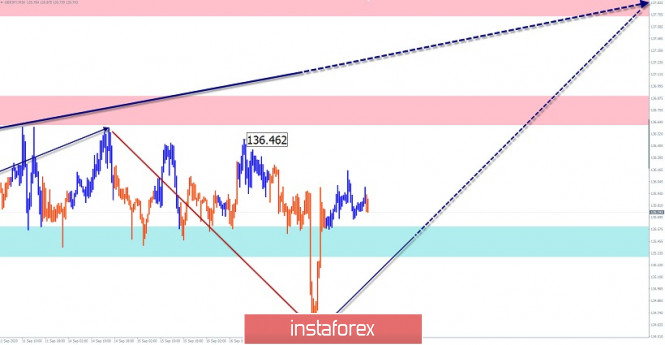 Explanation: In the simplified wave analysis (UVA), waves consist of 3 parts (A-B-C). The last incomplete wave is analyzed. The solid background of the arrows shows the formed structure, and the dotted background shows the expected movements.
Note: The wave algorithm does not take into account the duration of the instrument's movements in time!
The material has been provided by InstaForex Company -
www.instaforex.com