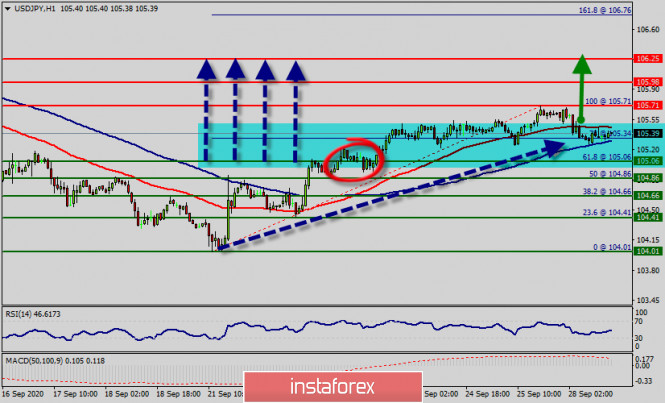 Overview :
The USD/JPY (US dollar/Japanese yen) pair is one of the most traded currency pairs for that it is known for its high liquidity, something it gets from the fact that the yen is the most heavily traded currency in Asia.
It remains bullish looking to buy on inclines above the level of 105.06 support for a further push up to at least 105.71 resistance.
A bullish channel is perfectly clear, so it continues bullish for a further rise from the support levels of 104.86 and 105.06.
The USD/JPY pair is finally starting to go ahead up nicely and a bullish exit has moved further strength for a push up. It keeps bullish looking to buy above major support level at 105.06 (61.8% of Fibonacci retracement, golden ratio).
The USD/JPY pair continued moving upwards from the level of 105.06 Today, the first support level is seen at 105.06 followed by 104.86, while daily resistance is seen at 105.71.
According to the previous events, the USD/JPY pair will be probably trading between the levels of 105.00 and 105.25. This would suggest a bullish market because the RSI indicator is still in a positive area and does not show any trend-reversal signs.
Furthermore, if the trend is able to break out through the first resistance level of 105.71, we should see the pair climbing towards the double top (106.25) to test it.
Otherwise, if a breakout takes place at the support level of 104.86, then this scenario may become invalidated. Remember to place a stop loss; it should be set below the second support of 104.66.
Forecast :
Buy (long position) above the price of 105.06.
Target 1 : Take profit at 105.90.
Target 2 : Take profit at 106.25.
Stop loss at 104.50.
The material has been provided by InstaForex Company -
www.instaforex.com