4-hour timeframe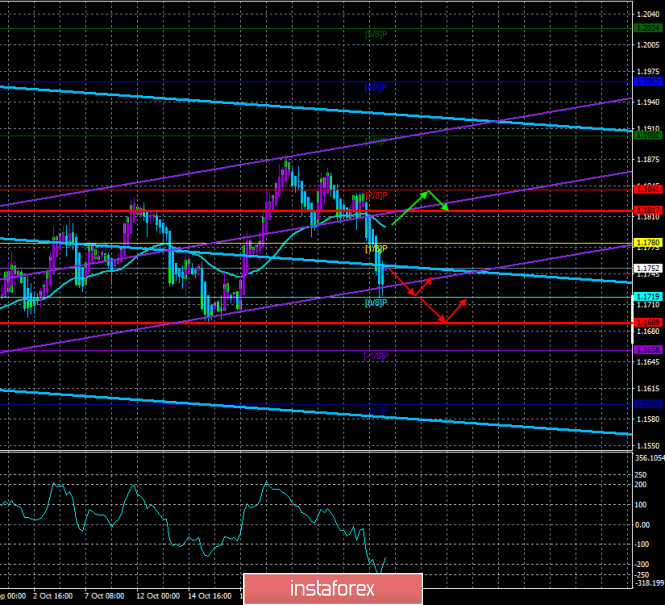 Technical details:
Higher linear regression channel: direction - downward.
Lower linear regression channel: direction - upward.
Moving average (20; smoothed) - downward.
CCI: -165.0362
During the third trading day of the new week, the EUR/USD pair resumed its downward movement. However, despite this, the pair continues to stay inside the side channel 1.1700-1.1900 (or its alternative 1.1640-1.1920). One way or another, it is the flat that remains, and all the up and down movements are just local trends inside the side channel. Thus, we would not draw any conclusions on yesterday's drop in quotes and the strengthening of the US currency. We can't say that the American economy is becoming more attractive because traders are finally paying attention to the dollar or the upcoming presidential election is no longer scaring the markets or that the "coronavirus" in Europe is gaining momentum or that Joe Biden now has an even better chance of winning. Thus, most likely, we are dealing with a purely technical drop in quotes inside the side channel, that's all. Contrary to the opinion of some traders, if the market does not receive important information or the markets are openly waiting for an event, this does not mean that the price at this time just stands still and is trading in a 10-point range. It still moves in different directions and can even cover impressive distances. After all, the currency market is created not only for speculators who enter it to make a profit. The foreign exchange market is a set of entities that can buy and sell currency based on their own needs, and not to make a profit.
Meanwhile, the US Election Day is less than a week away. Over the past three months, we have regularly written about the elections, and all this time the pair has been trading in the 200-250 point range, showing no desire to form a trend. Another pile of sociological research showed that Joe Biden continues to lead, 11% ahead of Trump. Well, Trump, in turn, began to implement his plan "B", which can work. We think it's no secret that Trump has already come to terms with the fact that he is unlikely to win the election. Still, Biden's 11% advantage, which has been stable over the past two months, needs to be somehow leveled in the elections themselves. And how to level such a huge number of votes? 11% is about 16 million voters. Of course, given the peculiarities of the American electoral system, these 11% advantages do not mean that Biden will get 11% more electoral votes. Rather, on the contrary, it means that the gap may be much larger in favor of Biden or even Trump will win, as in 2016, when all the polls also predicted his defeat. However, we are still inclined to believe that the best result for Trump may be a minimal gap from Biden. And the current president should not expect more, given the number of mistakes that he made as president of the country with the largest economy in the world. And what will give Trump the minimum loss? At first glance, nothing, however, at the same time it can give everything. That is, winning the election. The fact is that about 10 states in America are "controversial", that is, it is difficult to predict the victory of a particular candidate. There are states with more than 20 electoral votes. For example, there are 55 of them in California. What would it be? For example, if California has 20 million residents and 9,999,999 of them vote for Biden, and 10,000,001 for Trump, then Trump will win in this state and he will be given all 55 "electoral" votes that overlap Biden's victory in 10 states with the number of votes 4-7 at once. Thus. Biden can win 10 states and get fewer "electoral votes" in them than Trump won by a 2-vote margin in California. Now let's assume that the gap between Trump and Biden after counting the votes will be 30-40 votes. Trump immediately accuses the Democrats of fraud and fraud and asks the Supreme Court to review the results of the vote in any state where he lost, with the number of "electoral" votes more than 20. The Supreme Court consists of nine justices and at least five support Republicans or are appointed by Republicans to their posts. Among them is Amy Barrett, who was appointed yesterday to replace the untimely Ruth Ginsburg. The Senate voted in favor of her appointment. 52 Republican votes were enough to overlap 48 democratic votes. And in the case of judicial proceedings, 5 votes of Republican judges will be enough to block 4 votes of democratic judges. So much for Donald Trump's plan. Of course, the fraud of the Democrats in a particular state still needs to be proved. Moreover, Trump cannot claim that there was fraud in several states where he lost. However, there is no doubt that his team is already working hard on "evidence" of election fraud by the Democrats. Thus, Joe Biden and his team need to either win by a large margin so that any claims from Trump do not have any weight and significance or work on their evidence base that it is the Republicans who are trying to rig the election.
Well, the euro/dollar currency pair may once again turn around the level of 1.1700 or slightly lower and resume its upward movement. The last thing I would like to say is that the number of cases of "coronavirus" has been growing again in America recently. In recent days, 70-80 thousand cases have been recorded again, however, this also applies to the whole world. In recent days, 500,000 new cases have been registered daily. Thus, the European second "wave" is not an exclusively European trend. The pandemic is gaining momentum around the world. Therefore, the US dollar cannot grow now due to the difficult situation with the epidemic in Europe. Despite all the promises of Donald Trump, there is still not a single fully tested vaccine in the world, and even if it appears in the near future, it is unlikely that its production will be put on stream in the near future. The entire world's population can expect to be fully vaccinated no earlier than next summer.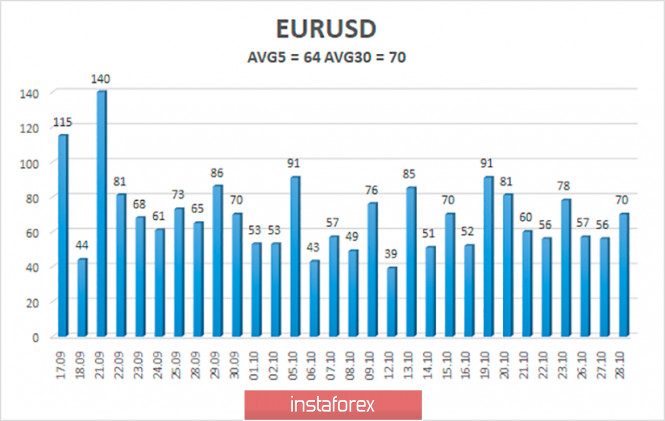 The volatility of the euro/dollar currency pair as of October 29 is 64 points and is characterized as "average". Thus, we expect the pair to move today between the levels of 1.1689 and 1.1817. A reversal of the Heiken Ashi indicator to the top may signal a round of upward correction.
Nearest support levels:
S1 – 1.1719
S2 – 1.1658
S3 – 1.1597
Nearest resistance levels:
R1 – 1.1780
R2 – 1.1841
R3 – 1.1902
Trading recommendations:
The EUR/USD pair continues its downward movement, but may be stuck in the area of 1.1689-1.1719. Thus, today it is recommended to maintain open sell orders with targets of 1.1689 and 1.1658, while the Heiken Ashi indicator is directed down. It is recommended to consider buy orders if the pair is fixed above the moving average line with targets of 1.1841 and 1.1902.
The material has been provided by InstaForex Company -
www.instaforex.com