Statistics from American fields on Thursday added optimism to investors. Appetite for risks improved and the Dollar also remained among those who received the data positively. The US economy expanded at an annualized rate of 33.1% in the third quarter, according to the first estimate. The growth rate was a record. This was the fastest pace since record keeping began in 1947 and followed a historic 31.4% drop in the second quarter.
It is unlikely that this report will soften the effects of COVID-19 due to the huge number of fatalities in America. Millions of people are also still out of work. However, Trump should not miss this positive moment for himself/ He will try to make the situation about him. The election is just days away and the current President is lagging behind in most national polls. The current rebound it will probably give out as a sign of recovery.
Joe Biden should not stay silent. He must emphasize that the growth spurt will quickly dry up.
On Thursday, the dollar was able to overcome the important mark of 94 points. If it manages to fix itself beyond its limits, then the upward dynamics may continue.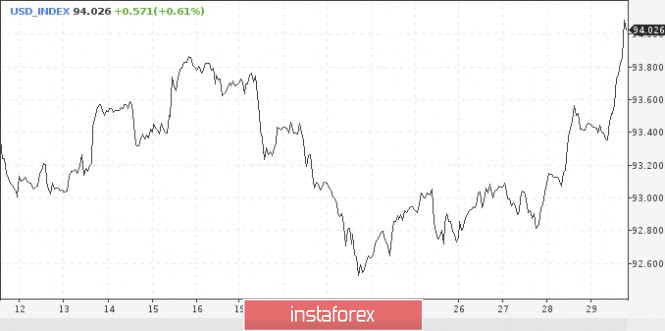 Meanwhile, the Coronavirus situation continues to put pressure on markets. France introduced a self-isolation regime, while Germany has limited itself to a lighter lockdown. There is growing concern that restrictive measures in Europe are also being extended to the US. Although the chances that another major economy in the world will be stopped are extremely small.
The Dollar's jump on Thursday may be short-lived. GDP data will be released and markets will switch to other more important topics. Ahead of the presidential election, and against this background, the Dollar may shake slightly. Volatility is sure to increase. It is possible that the US Dollar will start trading regardless of risk appetite and will largely depend on the history of the elections. Donald Trump still has a good chance of winning.
According to the majority, Joe Biden should win but the forecast of those who are more often right speaks in favor of Trump.
The Trafalgar Group released the results of a new survey conducted between October 24 and 25 in Minnesota, Wisconsin and Pennsylvania. In Minnesota, the Democrat remains the leader but he has already reduced the gap from the Republican by 1%. However, this does not change the situation, since Minnesota was already on Biden's side.
A week ago in Wisconsin, Biden had 3% more votes, now he goes with a margin of just 0.7 percentage points. The states have not changed sides but now it is important that the gap between the candidates is shrinking, which, of course, plays on the side of Trump. Meanwhile, the election news agency said that Georgia and North Carolina still chose the side of the Democrats.
The material has been provided by InstaForex Company -
www.instaforex.com