The currency market is quite calm while the US stock market is optimistic about the prospects for new large-scale measures to stimulate the US economy as well as give assistance to its citizens.
Investors are convinced that whoever wins the presidential elections, either D. Trump or J. Biden, will be forced to take additional stimulating measures for the economy, which will be beneficial to the growth of the value of companies' shares. This is the factor that supports the markets, which does not allow the dollar to strengthen.
Yesterday's trading results clearly indicate that with all the optimism in the US, the currency market is showing uncertainty about the development of events before the election on November 3. Moreover, the issue regarding Trump's COVID-19 appears to have disappeared after the media reported that it hasn't worsened in the past 24 hours. This caused the market to plunge into a state of uncertainty. In addition, the market behavior can be explained by the fact that Trump's call for gradual adoption of incentive measures will increase demand for company shares, which will simultaneously put pressure on the dollar. But since it is not clear when all this will start, we have to observe the sideways dynamics of the pairs where the US currency is present in the market.
Today, our attention will be focused on speeches by Bank of England Governor Bailey, ECB representatives Schnabel, Mersch and de Guindos, Swiss Central Bank Governor Jordan and BoC's board member Macklem. The market will carefully study the ECB's monetary policy statement. Of course, the publication of data on the number of applications for unemployment benefits in the United States for the past week will also attract his attention. It is expected that their number will reach the level of 820,000. In the late evening at 18.25 Universal time, we can expect a speech by Fed's member Barkin.
Assessing the emerging outlook in the markets, we believe that the overall dynamics in the currency market will continue. Moreover, it is unlikely that a decision can be made by the Congress on the introduction of new incentive measures before November 3, since the disagreement between the rivals in the presidential election is huge, which means that the uncertainty factor will force investors to show low activity.
Forecast of the day:
The EUR/USD pair continues to consolidate in a narrow range of 1.1725-1.1810. If it breaks the level of 1.1780, it will further rise to 1.1810.
The USD/CAD pair remains under pressure on a wave of rising crude oil prices. If the price declines below the level of 1.3245, we can expect it to further decline 1.3200.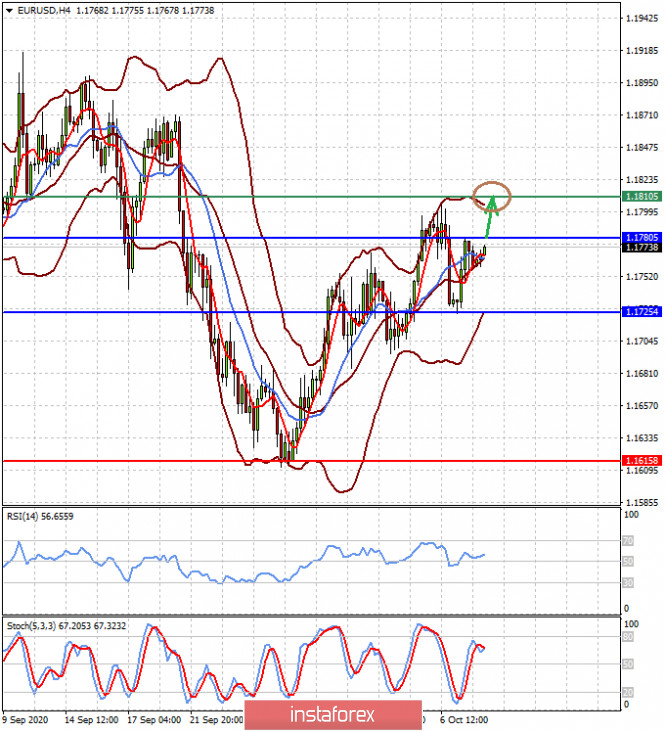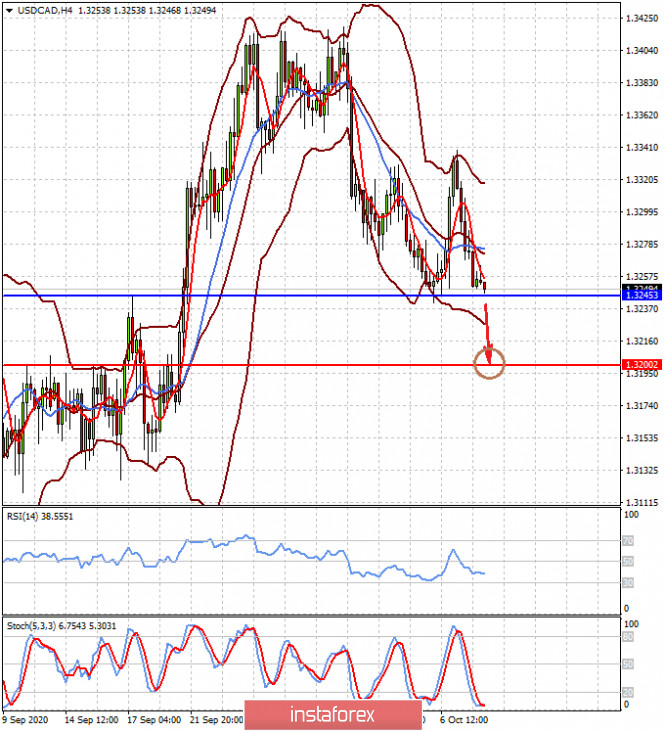 The material has been provided by InstaForex Company -
www.instaforex.com