Investors are paying their full attention to the two most important things that dominate the market recently – COVID-19 and US presidential elections. It is possible that this will continue to take the lead until this month ends.
The first factor includes the ongoing problem with COVID-19. The second wave of which is observed in Europe, while the first outbreak is not yet done in the US. On the other hand, we have the US presidential elections as the second factor. Against the backdrop of these events, markets have almost stopped responding to the emerging economic data, and continue to point out the weak prospects for the global economic recovery in general, and the US and European in particular.
Yesterday, the published consumer inflation data in China came below the forecasted values, which only rose by only 0.2% (monthly terms) in September against August values of 0.4% y/y, which means that 1.7% growth was only added against a year earlier - 2.4%. The figures fully reflect the effects of COVID-19 on the Chinese economy and the world generally, since China is the largest producer of goods in the world.
On the other hand, US investors just ignored the negative data from the labor market, weak values of the NY Empire State manufacturing activity index for October, and perhaps, they also did not notice FRS Philadelphia's great values on the manufacturing activity index.
Here, the values of the number of applications for unemployment benefits, which showed their growth again over the past week, increased to 898,000 against 845,000 a week earlier. At the same time, NY Empire State manufacturing activity index declined from 17.0 points to 10.5 point, while on the contrary, FRS Philadelphia's index of manufacturing activity soared from 15.0 points to 32.3 points. However, we should recall that investors did not react to this data in any way.
Important economic statistics from Europe will also be published today such as the values of consumer inflation in the euro area, which is expected to keep its dynamics and trade balance of the euro area. In addition, we have the values of the basic index of US retail sales, which is forecasted to decline from 0.7% to 0.5%, the volume of retail sales with forecasted growth to 0.7% and more statistics from the University of Michigan.
However, it seems that this will only have a small impact on the mood of investors. In this regard, the US dollar can continue to rise, since the market is still dominated by COVID-19 and US elections.
Forecast of the day:
The EUR/USD pair is likely to continue declining to 1.1650 after breaking through the level of 1.1700.
The AUD/USD pair also seems to be more likely to decline to 0.7015 after breaking through the level of 0.7065.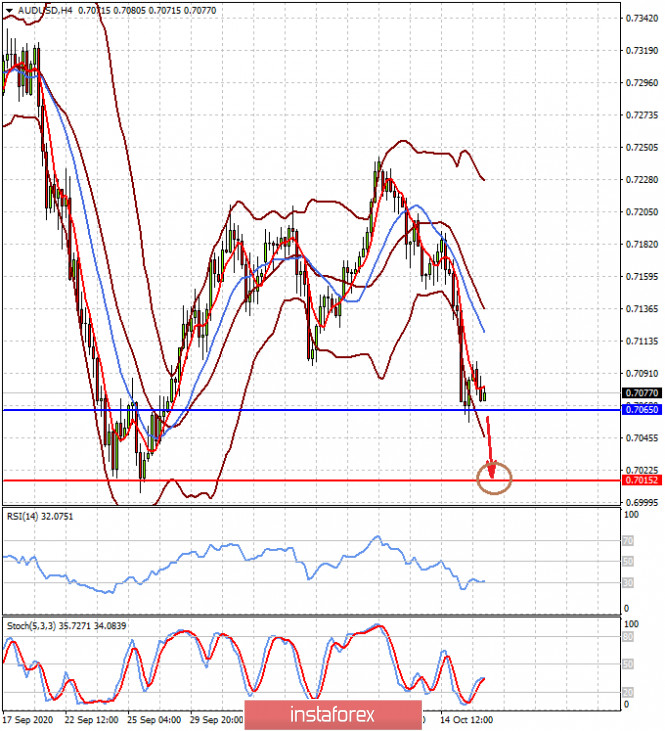 The material has been provided by InstaForex Company -
www.instaforex.com