The market yesterday completely switched to the situation around D. Trump and his COVID-19, as well as to the possibility of new stimulus measures, which put pressure on the US dollar.
It seems that we will see an interesting picture this week. The two factors that are decisive will be the situation around Trump being infected by COVID-19 and the Congress' adoption of a new stimulus program. The market believes that if the US president will not be cured immediately, it will help J. Biden in the presidential race and investors currently believe that this will be positive for the stock market, since his victory will be more actual, which could force Trump to admit defeat.
Against this background, there will be continued demand for shares of companies that have already significantly corrected in September and, according to the dynamics of the indices, are trying to turn up.
In these conditions, the US dollar is under pressure. It is quite likely that it can continue to decline to major currencies, if Speaker of the Lower House of Congress N. Pelosi and Finance Minister S. Mnuchin will agree on new measures to help Americans and business during the meeting today, as it resulted in nothing yesterday.
The main negative factor for the USD rate is the high probability of J. Biden's victory in the presidential election, since COVID-19 could prevent Trump from actively participating in the debates. An increase in the chances of winning the first one significantly reduces the possibilities of the second candidate.
To sum it up, the currency market is expected to react today based on the news about Trump's COVID-19 and the possibility of agreements on incentives between Pelosi and Mnuchin. A new rally in equity markets will be triggered if news about Trump will be negative and news about incentives will be positive. In turn, the dollar will weaken.
In terms of economic statistics, we will single out the publication of the number of open vacancies in the JOLTS labor market, as well as the speeches of the ECB's head C. Lagarde and the Fed's head J. Powell.
Forecast of the day:
The EUR/USD pair is declining after yesterday's rally in anticipation of Lagarde and Powell's speeches. It could correct to 1.1755 before rising towards 1.1810 on the wave of possible new optimism.
The AUD/USD pair is moving down on the wave of the result of the RBA monetary policy meeting. This, as well as the general possible correction in the currency market, could push the pair down to 0.7100 after overcoming the level of 0.7160.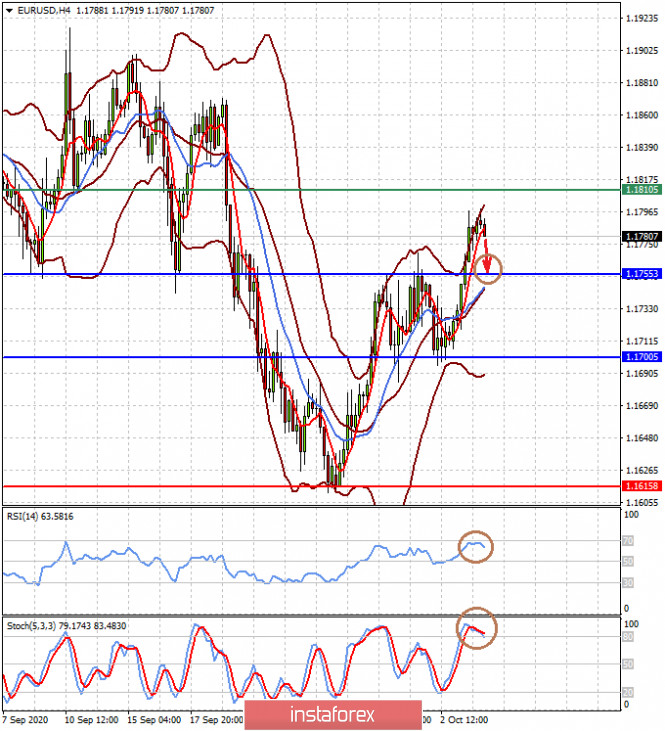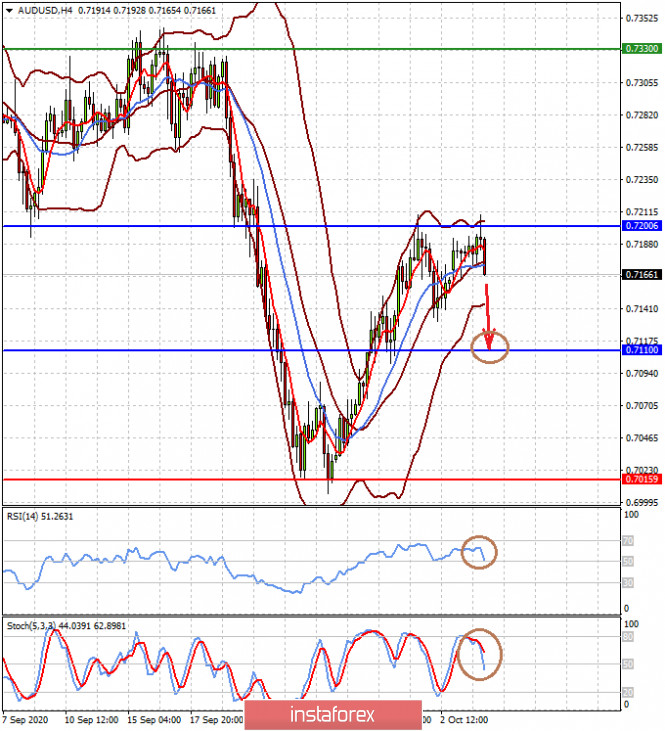 The material has been provided by InstaForex Company -
www.instaforex.com