Hourly chart of the EUR/USD pair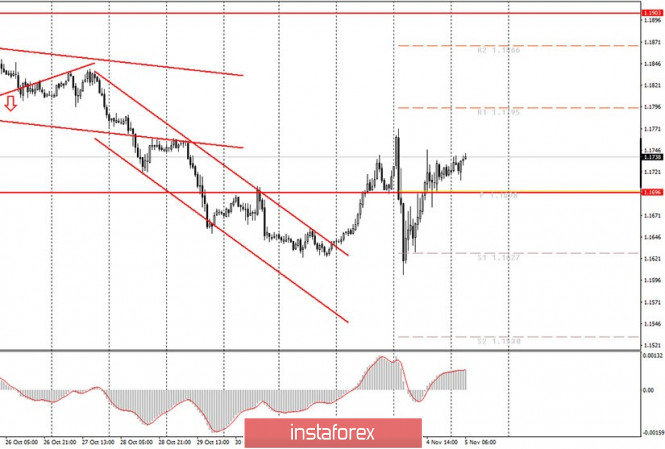 The EUR/USD pair continued a rather calm upward movement last night, however, we believe that the "storm" in the currency market is not over yet. We will discuss the foundation below. From a technical point of view, quotes will continue to rise, but it can be replaced by a downward pullback or correction at any time. There is still no clear trend, so we cannot advise you to trade for an increase (or, conversely, a decrease) right now. Consequently, the uncertainty factor is much higher than usual. Theoretically, you can try to catch a sell signal from the MACD indicator, since this will be absolutely normal for the process of calming down (a turn of a downward movement). We believe that the pair can go down by points today. At the same time, advise you to wait until a clear trend appears.
We continue to receive reports on the counting of votes in the presidential elections. As of Thursday morning, Joe Biden is in the lead by 50 "electoral votes" and is 6 votes short of winning. Therefore, with a high degree of probability, it can be stated that Biden has won the election. However, firstly, there are no final results yet, and secondly, protests, rallies and riots (in most cases against Trump) have already begun in many US cities, and thirdly, the most interesting thing can begin after the final results are announced. Despite the fact that the gap between Trump and Biden is large enough, this does not mean that Donald Trump will calmly step down and hand over power to a Democrat. Yesterday, Trump said he would demand a review of the results in some states. That is, litigation is unlikely to be avoided. And all these events can be extremely important for the US dollar. Simply put, nothing is over yet. And traders need to be prepared for a new round of volatile market movements. In addition to the elections, the US will also sum up the results of the Federal Reserve meeting today. Although no one expects the US central bank to change the monetary policy in November, nevertheless, we might receive important and interesting information. Fed Chairman Jerome Powell can share his vision of the current state of the American economy, and there is something to say on this topic. Take note of the package of financial assistance that has not been adopted to all the unemployed and the sectors of the economy most affected by the pandemic and crisis. Democrats and Republicans have never been able to come to a common denominator on this issue. In general, Powell will have something to say.
Possible scenarios for November 5:
1) Buy positions on the EUR/USD pair became relevant after the price settled above the descending channel. However, at this time, the pair tends to often change direction, and each turn of movement can be very strong. Over the past hours, the pair has already increased by more than 130 points, so the upward movement is unlikely to continue. In general, it will be extremely difficult to receive buy signals by today or tomorrow, and the fundamental background may continue to have a strong impact on the mood of the markets.
2) Trading for a fall at this time is irrelevant, despite the fact that trading down has more chances and probability right now. Theoretically, novice traders can try to work out a new sell signal from the MACD with a target of 1.1627, but then one should not forget about Stop Loss. We advise you to wait until the markets calm down.
On the chart:
Support and Resistance Levels are the Levels that serve as targets when buying or selling the pair. You can place Take Profit near these levels.
Red lines are the channels or trend lines that display the current trend and show in which direction it is better to trade now.
Up/down arrows show where you should sell or buy after reaching or breaking through particular levels.
The MACD indicator (14,22,3) consists of a histogram and a signal line. When they cross, this is a signal to enter the market. It is recommended to use this indicator in combination with trend lines (channels and trend lines).
Important announcements and economic reports that you can always find in the news calendar can seriously influence the trajectory of a currency pair. Therefore, at the time of their release, we recommended trading as carefully as possible or exit the market in order to avoid a sharp price reversal.
Beginners on Forex should remember that not every single trade has to be profitable. The development of a clear strategy and money management are the key to success in trading over a long period of time.
The material has been provided by InstaForex Company -
www.instaforex.com