EUR/USD
Yesterday the market spent a day in disputes and expectations on the US election results. Joe Biden, having seized the leadership from the very beginning, holding it until this morning, he now has 253 votes against Trump's 214, 71.471 million votes were cast for Biden against Trump's 67.968 million. To win for the presidency, a candidate needs to recruit 270 voters. The alignment in the Senate has slightly changed - the Democrats lost the leadership, they now have 47 seats against 48 for the Republicans (50 are needed to control the upper house), the House of Representatives remains with the Democrats: 197 seats against 186. Votes can be counted for a few more days, since many voters voted by mail.
Investors were worried - the trading volume for the euro was the highest in the last five months, the trading range was 168 points. The media wrote that Biden's victory will be followed by a weakening of the dollar, but we repeat: the Democratic establishment traditionally followed the policy of a strong dollar after some periods of exclusion, especially when it was necessary to pull the economy out of the crisis. In the current situation, the demand for dollars will be supported by the demand for US public debt (in connection with the new aid package) and the change of Trump's state paradigm "divide and conquer" to the "unite and conquer" paradigm, which will be expressed in the unfreezing of projects of transoceanic partnerships and an early agreement with Britain on its exit from the EU. In the long term, we expect the euro to be below parity.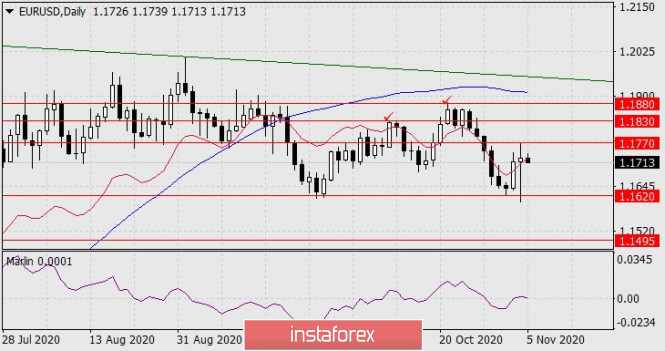 The daily chart shows that the euro returned to the area of the balance indicator line, while the signal line of the Marlin oscillator moves horizontally right along the border of the downward area. Perhaps the euro will reach the lower target level of 1.1620 by today or tomorrow.
The price needs to overcome yesterday's high (1.1770) in order to move up, and it also needs to take the nearest target at 1.1830, which is the peak on October 9.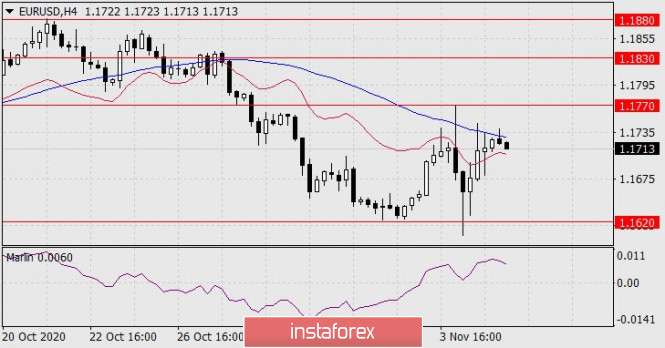 The price cannot go above the MACD indicator line on the four-hour chart, while the Marlin oscillator turns to the downside without waiting for it. There are no clear signals for a reversal yet, but there are no signals for succeeding growth either. So we should wait until the market reacts to the results of the presidential elections.
The material has been provided by InstaForex Company -
www.instaforex.com