4-hour timeframe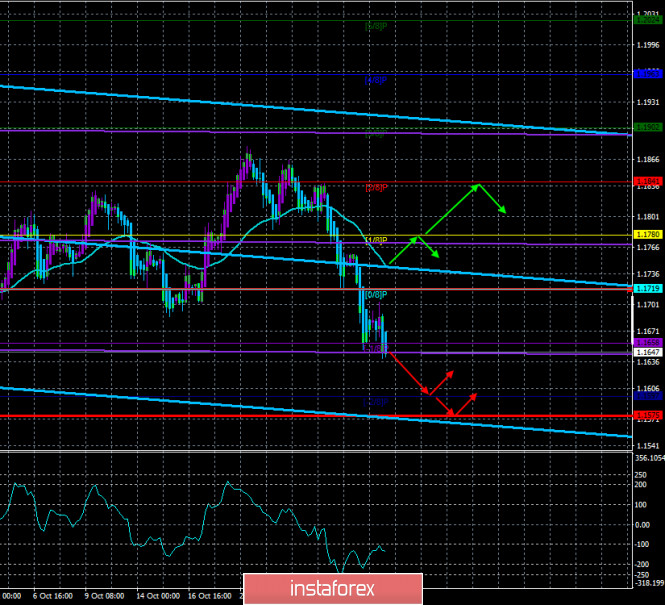 Technical details:
Higher linear regression channel: direction - downward.
Lower linear regression channel: direction - sideways.
Moving average (20; smoothed) - downward.
CCI: -134.4027
During the last trading day of the past week, the EUR/USD pair continued its downward movement and fell to the level of 1.1650 by the end of the day. Thus, it seems that the bears are still seriously determined to end the three-month flat and start forming a new downward trend. Of course, there are still chances that the pair will simply take and return to the side channel of $ 1.17 - $ 1.19, as it was once before. Well, the most important thing is that the US presidential election will finally take place on Tuesday, which means that this week we will find out who won the popular vote. In the popular vote, but not in the elections, because we have repeatedly said that there is a very low probability that after the vote count is completed, one of the candidates will admit defeat and that will be the end of it. Most likely, there will be lengthy proceedings and mutual accusations of fraud. And no one knows how much time will pass before all the proceedings are completed. Thus, we would say that the most interesting and fun part of 2020 is coming for the markets.
Oddly enough, almost no information has been received recently from the two US presidential candidates. If earlier Donald Trump spoke, gave comments 10 times a day, commenting on absolutely any topics and questions, now "news calm". Neither Trump nor Biden did not do loud statements. There is no new data from Steven Mnuchin or Nancy Pelosi. The media does not comment on the new anti-records for the disease "coronavirus" in the United States. There is no new information about the coronavirus vaccine. Jerome Powell remains silent and does not comment on the economy or monetary policy. Democrats and Republicans have not been able to agree on a new stimulus package. It seems that everything that was said, written, and shown in recent months has suddenly lost any meaning.
Meanwhile, more than 90 million people have already voted in America one day before election day. This is a record. This is almost 43% of the voters registered in the country. At the same time, experts continue to analyze the current situation and try to predict the election results. In general, if it were not about Trump, but about any other president, then there would be nothing to talk about. With such a large margin of voter support, Joe Biden would have a nearly 100% chance of winning. However, all as one, experts and political scientists believe that if we are talking about Donald Trump, then surprises will be possible. Trump is the most unpopular US president in recent decades. The approval rate for his policies never reached 50%. Donald Trump has never been able to surpass Joe Biden in approval ratings. In most of the "disputed" states, Biden continues to lead. Also, we recall all those "victories" of Trump as President of the United States and understand that there is simply no reason to re-elect him. President Trump failed the fight against the "coronavirus", lost the trade war with China (at least America did not get any dividends for itself), left the WHO, quarreled with the Democrats and everyone who did not want to adhere to his opinion and generally turned most of America against him. His almost only trump card was the economy, which continued to grow, but it should be remembered that it began to grow in the time of Barack Obama. So it wasn't Donald Trump who lifted the economy "off its knees". Well, in 2020, this main trump card of the current President was leveled. And we still do not remember such events as impeachment, the scandal with Ukrainian President Vladimir Zelensky, "racial" scandals, and other delights. In general, if you look exclusively at facts and figures, it turns out that Trump has no chance of re-election. However, Trump did not lead in the preliminary polls in 2016.
And, of course, a huge problem for the United States now remains the problem of COVID-2019. On October 30, almost 100,000 new cases were recorded in America, and the total number of cases reached 9.1 million. At the same time, Donald Trump, speaking at a rally in Waterford, Michigan, said that American doctors exaggerate the severity of the "coronavirus" because they earn money from it. "Our doctors are very smart people. They say: everyone dies from COVID. And this is about two thousand dollars of extra money, so they have more money," the US President said, which seems to have further lowered his chances of re-election.
In general, everything has been said about the election more than a dozen times. Therefore, we believe that it is best to just wait for the votes to be counted and draw any conclusions about the further movement of the euro/dollar pair after. At this time, it is still impossible to say which of the candidates is the best for the US currency. Moreover, it is unlikely that the US dollar will become more expensive or cheaper based on the fact that Trump will become President again. These are long-term issues. Recall that in the four years of the Democrats, the US dollar usually becomes cheaper and it becomes more expensive under the Republicans. Of course, this may be a coincidence, however, there is a certain trend.
We should also not forget about Europe. France and Germany have been quarantined, and other countries may soon join them. However, COVID-2019 is a worldwide problem and there are even more cases in the United States than in Europe. Therefore, most likely, the "coronavirus" itself or the fact of quarantine will not affect the European currency in any way. But the prospects of the European economy, which may again be quarantined, and most importantly the mood of traders, cause serious concerns. After all, in America, despite the record number of diseases, quarantine is not going to be introduced. But the EU economy may start shrinking again in the near future. These are the concerns expressed last Thursday by ECB chief Christine Lagarde. What do "new cuts" mean? They mean that the economy will need stimulus measures again, it will start to slow down again, and it will eventually take a very long time to recover.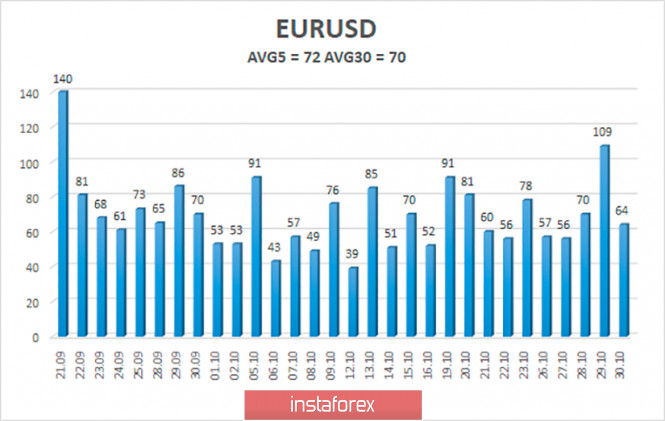 The volatility of the euro/dollar currency pair as of November 2 is 72 points and is characterized as "average". Thus, we expect the pair to move today between the levels of 1.1575 and 1.1719. A reversal of the Heiken Ashi indicator to the top may signal a new round of upward correction.
Nearest support levels:
S1 – 1.1597
Nearest resistance levels:
R1 – 1.1658
R2 – 1.1719
R3 – 1.1780
Trading recommendations:
The EUR/USD pair continues its downward movement. Thus, today it is recommended to maintain open sell orders with targets of 1.1597 and 1.1575 as long as the Heiken Ashi indicator is directed down. It is recommended to consider buy orders if the pair is fixed above the moving average line with the first targets of 1.1780 and 1.1841.
The material has been provided by InstaForex Company -
www.instaforex.com