4-hour timeframe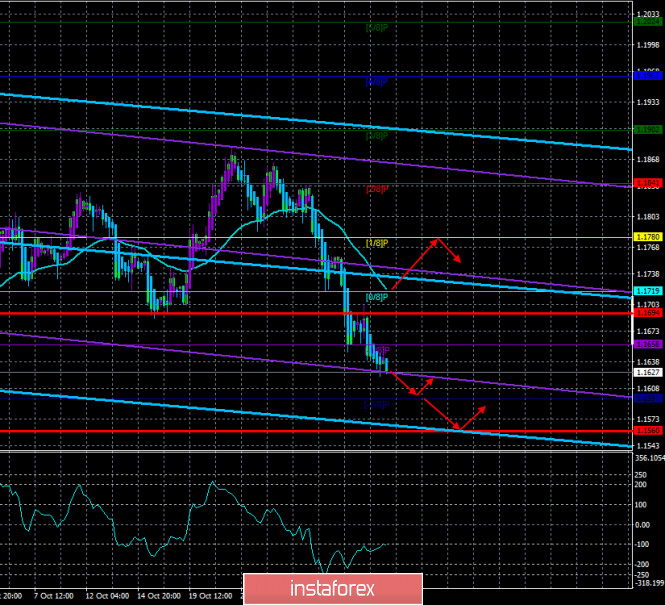 Technical details:
Higher linear regression channel: direction - downward.
Lower linear regression channel: direction - downward.
Moving average (20; smoothed) - downward.
CCI: -105.2729
During the first trading day of the new week, the EUR/USD pair was trading in the rhythm of the last days, continuing its downward movement. And at a certain point, it fell to the lows of September 25, when everyone also thought that a new downward trend had begun to form, after which the price turned up and returned to the side channel, where it spent another month. Thus, a rebound from the support area of 1.1612-1.1620 is not excluded. To be honest, the downward movement of the last few days looks even a little strange, since it indicates the strengthening of the US currency. And why would the US currency show growth in the run-up to the presidential election, if before that, three months ago, the pair was trading in a side channel? Of course, the current fall of the pair can not be called strong. This may be a "duty" drop in quotes. Or maybe it has nothing to do with the US election at all.
We remind you that the second "wave" of the "coronavirus" is currently raging in Europe, which began relatively recently. "Regarding" the American "wave", which can not be called the "second" one, since the first one did not end. However, France, Germany, and the UK have already imposed "strict" quarantines, other countries will either do so soon or have already taken measures approaching "strict". Anyway, if the epidemiological situation in Europe was relatively calm for several months before the second "wave", then in the last month it is frightening. And, perhaps, the European currency reacted to this factor. After all, the "coronavirus" itself is a medical issue. But "lockdowns" and restrictions imposed by governments are an economic issue. It is the economy that suffers primarily from such measures. The service sector immediately begins to decline, while the industrial sector remains more or less afloat. Thus, the European economy will experience new problems at the end of 2020.
As for almost the most important event of the end of 2020 - the US presidential election - everything is going on as usual, very calmly. The election has already been going on for several weeks since there is such a thing as "early elections" in the States. More than 90 million US residents have already voted, which is equal to 67% of the total turnout in 2016. Most of them are sent by mail. According to media reports, Joe Biden is in the lead, which, in principle, is not surprising, since it was the Democrat who pushed the idea of early voting or voting by mail to avoid queues and mass gatherings on election day. Thus, there was no doubt that the majority of those who voted in recent weeks chose a Democrat. Donald Trump is hoping directly for election day. Also, Trump is counting on winning the election and is even preparing for a certain reshuffle in the state apparatus. Strange as it may seem, the changes may affect first of all those who disagree with the President's opinion on the pandemic. It seems that Anthony Fauci will be the first to be fired, although he has nothing to do with the White House directly. Trump also managed to declare that he is going to declare himself the new President of the United States ahead of schedule, before the full vote count, "if it turns out that he will go ahead of Biden".
Recent opinion polls conducted just a couple of days before the election again showed Biden's advantage over Trump by about 8-10%. However, many experts say that despite Biden's 10% lead over Trump, the current President has a good chance of gaining 270 "electoral votes", which is enough to win. This is because it is difficult to predict results in "contested" states, and in 2016, many also predicted Trump's defeat. Well, in many US cities (especially large ones), quite strange preparations for election day are in full swing. Namely, many banks, companies, restaurants, and hotels board up their facades with plywood sheets, fearing mass riots, and pogroms. Many managers of institutions that have resorted to such drastic measures, reported that during mass rallies and protests related to the death of George Floyd, they have already faced pogroms and vandalism. So this time it's better to be safe. A survey by the well-known YouGov company supports such concerns, which showed that about 56% of Americans expect mass riots and violent protests on November 3. Authorities in some states and cities are also preparing for mass clashes between Trump and Biden supporters. Chicago Mayor Lori Lightfoot said he was "preparing for the worst because of events this spring and summer".
In such conditions, the euro/dollar pair is trading very calmly. At least, its volatility is not out of the average values. So far, the downward trend remains, but no one can predict what will happen tomorrow and until the end of the week. We remind you that the election itself is not something extremely important for traders and investors. What matters is what US policy will be on many vital issues over the next four years. We have already said that under democratic presidents, the US currency usually falls, while under Republicans it rises. Thus, the difference in external and internal policies is of major importance. Also, we should not forget about possible judicial confrontations between Trump and Biden, which may drag on for many weeks, as well as the long counting of votes of those who voted by mail. In general, we can hardly hope that on November 4 we will learn the name of the new President of America. Most likely, this process will take several days or even a week. All this time, market participants will continue to be in limbo. We also warn traders that tomorrow there may be significant exchange rate fluctuations, as it was on election day in 2016, for example. Thus, trading the pair now needs to be extremely careful.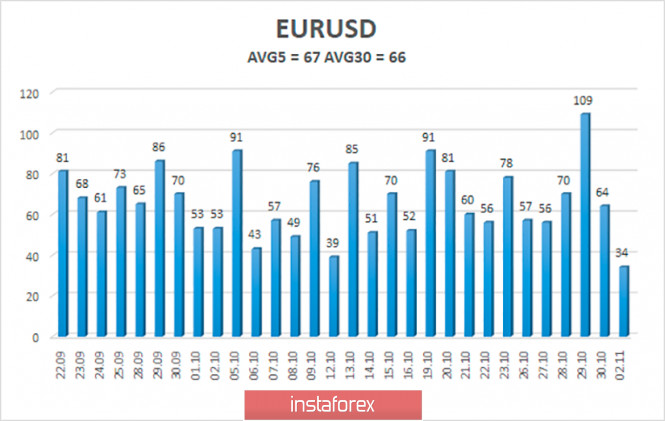 The volatility of the euro/dollar currency pair as of November 3 is 67 points and is characterized as "average". Thus, we expect the pair to move today between the levels of 1.1560 and 1.1694. A reversal of the Heiken Ashi indicator to the top may signal a new round of upward correction.
Nearest support levels:
S1 – 1.1597
Nearest resistance levels:
R1 – 1.1658
R2 – 1.1719
R3 – 1.1780
Trading recommendations:
The EUR/USD pair continues its downward movement. Thus, today it is recommended to maintain open sell orders with targets of 1.1597 and 1.1560 as long as the Heiken Ashi indicator is directed down. It is recommended to consider buy orders if the pair is fixed above the moving average line with the first targets of 1.1780 and 1.1841.
The material has been provided by InstaForex Company -
www.instaforex.com