EUR/USD
Analysis:
The movements of the last days on the chart of the European currency canceled the upward reversal pattern that began in September. All current movements of the last month were related to the bearish correction wave of the four-hour timeframe of July 31. According to Elliott's VA, this is a stretched plane.
Forecast:
The next day is expected to move between the nearest zones in the summer. In the first half of the day, an upward trend is likely. Further, in the resistance zone, you can expect a reversal and a repeated decline. You should count on updating the local minimum.
Potential reversal zones
Resistance:
- 1.1720/1.1750
Support:
- 1.1650/1.1620
Recommendations:
Trading in the euro market today can be very risky due to sharp fluctuations in the exchange rate. We recommend lowering the standard lot. Sales from the resistance zone are more promising.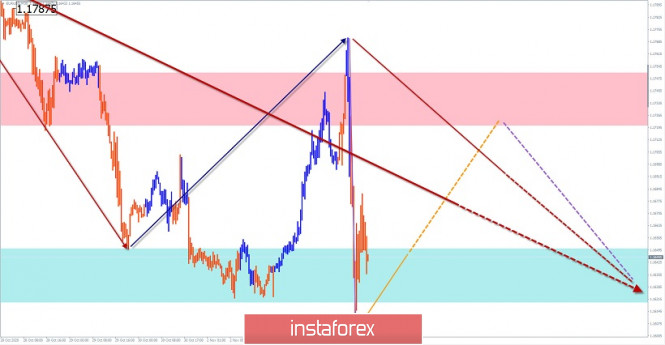 AUD/USD
Analysis:
Current price fluctuations fit into the algorithm of the rising wave from September 25. The structure of the wave shows the sequence (A-B-C). The decline that started today forms a correction in the final part.
Forecast:
Today, the pair's exchange rate is expected to move mainly in the lateral plane. In the next session, you can expect an attempt to put pressure on the resistance zone. By the end of the day, a decline is more likely, with a return to the support zone.
Potential reversal zones
Resistance:
- 0.7150/0.7180
Support:
- 0.7090/0.7060
Recommendations:
Trading on the pair's market today is quite risky and can only be successful during sessions. Tool purchases are safer.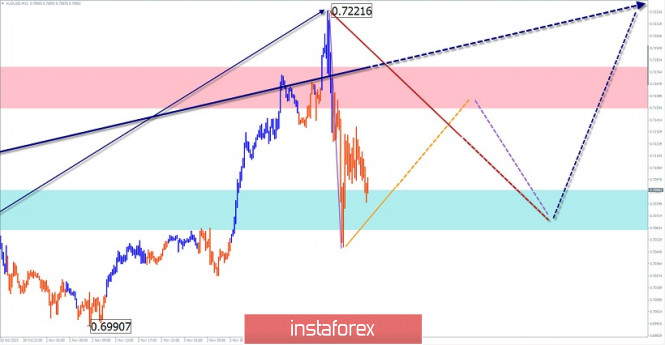 GBP/JPY
Analysis:
The last incomplete wave construction of the pound/yen cross is downward. It has been reporting since October 12. In the structure, the middle part (B) is close to completion. the bearish section that began in the Asian session has a reversal potential and may be the beginning of the final part (C).
Forecast:
The price is expected to move sideways the next day. After trying to put pressure on the resistance zone. A reversal and price rise in the area of the resistance zone is likely.
Potential reversal zones
Resistance:
- 137.00/137.30
Support:
- 135.90/135.60
Recommendations:
The best tactic today is to refrain from entering the pair's market until the downside reversal is complete. Short-term transactions are allowed according to the expected sequence. The lot should be reduced as much as possible.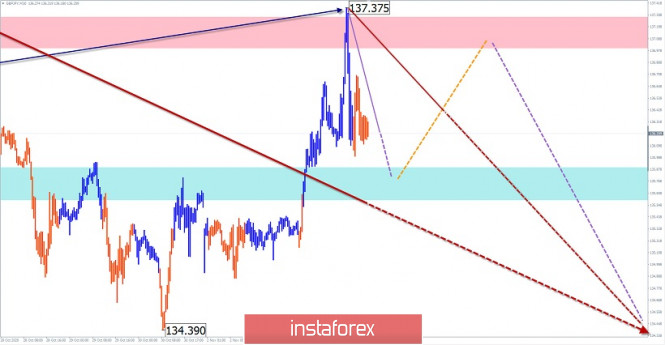 Explanation: In the simplified wave analysis (UVA), waves consist of 3 parts (A-B-C). The last incomplete wave is analyzed. The solid background of the arrows shows the formed structure, and the dotted background shows the expected movements.
Note: The wave algorithm does not take into account the duration of the instrument's movements in time!
The material has been provided by InstaForex Company -
www.instaforex.com