Bitcoin has continued to rise for the last few days, which was already expected. Even when Bitcoin surged to $ 55,000 per coin this weekend, the correction did not start, suggesting the continuation of growth. As a result, Bitcoin's quotes still reached the next resistance level of $ 56,500 and even consolidated above it, but the breakout turned out to be false, so it can be considered a rebound from the level. A collapse or a correction did not follow, but only a strong round of correction, which can now be already considered completed. Thus, a breakdown of the level of $ 56,500 could help the world's main cryptocurrency to further rise. It is also worth noting that a trend line cannot be formed at the moment, since the growth of the cryptocurrency is too strong and there are simply no pivot points.
Meanwhile, Bitcoin has received a new round of criticism from the CEO of JPMorgan investment bank Jamie Dimon. In his speech at an event organized by the Institute of International Finance, he stated that he does not pay any attention to Bitcoin and still believes that it has no value and it does not bring any benefit to humanity. Nevertheless, Dimon noted that the bank's clients are adults and have their own opinion on this issue. Therefore, if customers want to be able to buy bitcoin, then the bank must provide the most legal and secure way to do so.
In addition, it should be noted that the Bitcoin dominance index is rising again and is approaching 50%. It can be recalled that the so-called "altcoin season" began at the beginning of this year when it was the alternative cryptocurrencies that grew much stronger than bitcoin and had much greater potential to rise. That's when the first conversations began regarding the fact that bitcoin is becoming less promising for investors than, for example, Ethereum. However, investments now in bitcoin exceed investments in other cryptocurrencies, so it can be concluded that the markets are now using the most likely way to earn money. It can be said that the entire crypto market is united by bitcoin, so this may well explain the current "hype" around it. And since Bitcoin is growing, and other cryptocurrencies are not, although there are no good fundamental reasons for this at all, it means that the current growth is just a "hype", which was mentioned this weekend. Consequently, the current growth may continue for some time, but the "hype" usually ends with a collapse of the cryptocurrency, with a strong decline. Therefore, it is better to be cautious.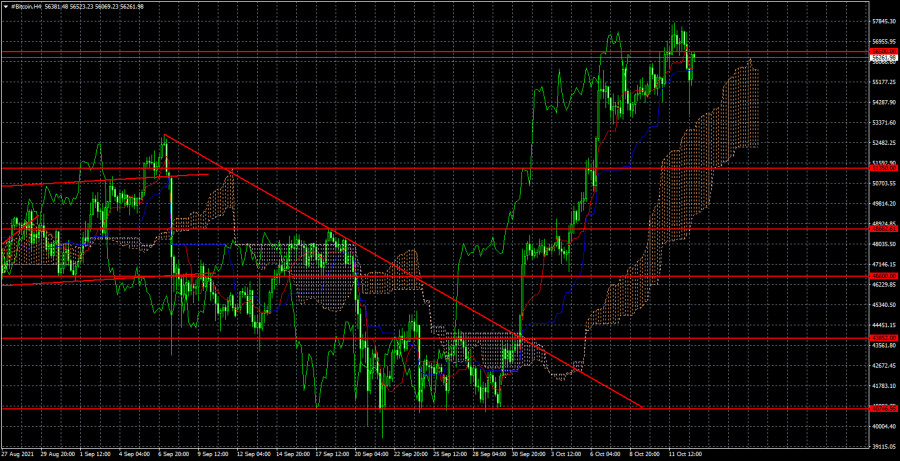 There is still an upward trend on the four-hour timeframe. The price already managed to break through the level of $ 56,500, so it is currently recommended to make a correction as the quotes fell under this level. However, we would not advise rushing sales. It is possible to open them in small lots with a Stop Loss above the level of $ 56,500. If the level of $56,500 is broken once again, the upward movement may continue with a target of $64,768. This level is the absolute high.
The material has been provided by InstaForex Company -
www.instaforex.com
from
RobotFX