The rally in the stock markets supports the positive mood in the markets, which puts pressure on the US dollar, despite the rising expectations of an earlier increase in the Fed's interest rates amid high inflation, as indicated by economic statistics released on Wednesday.
Investors have completely switched to the published statements of companies for the third quarter, which generally remains positive and supports the demand for company shares, and in turn, this puts pressure on the US dollar and contributes primarily to the growth of major currencies against it.
How long will this optimism in the markets last and what will happen later when the leaders of national economies report?
We believe that investors will react to the reporting of companies due to the lack of any important news and events at the moment. It is likely that the positive mood will continue until next week, which will support the world's stock indices and put pressure on the US dollar. However, this possible dynamics might be temporary, since, after the publication of the reports of the largest companies, all the attention of the market will again be grouped on the problems of the American and global economies on high inflation in the US and the prospects for raising interest rates by the Fed, which is possible on summer of next year, if inflationary pressure does not weaken amid a reduction in the volume of asset repurchases of QE programs.
On another note, the probability of a slowdown and the beginning of a decline in the US inflation on the wave of reduction in stimulus measures is considered as unlikely, since the main reason for its growth is the almost unlimited flow of "helicopter money" in the form of measures to support the population, who does not want to go to work, reasonably believing that it is better to stay at home than to risk health in the face of a coronavirus pandemic. There is no doubt that all of this applies to the low-paid strata of American society.
Regarding the prospects for the growth of crude oil prices, it is worth noting that they are likely to continue to rise, and not against the background of global economic growth, but due to high demand due to Europe's energy crisis, China's purchases of large volumes of oil, and the expectation of a harsh winter in the northern hemisphere of our planet.
Assessing the prospects for the following week, we believe that the markets will most likely continue to grow, and the US dollar will remain under broad pressure.
Forecast of the day:
The USD/CAD pair continues to decline amid strong demand for oil and gas, and the weakness of the US dollar. A weak dollar and rising crude oil prices will push the pair down to the level of 1.2300 and then to 1.2250.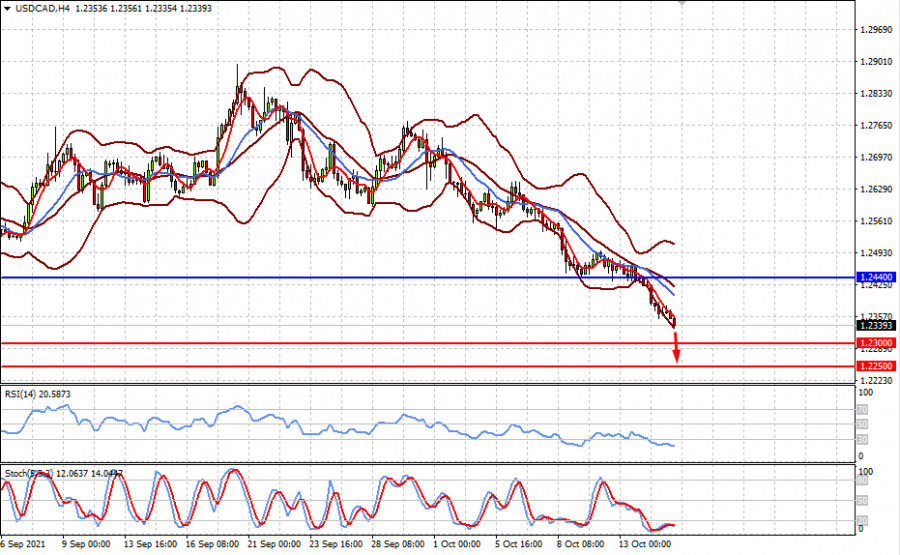 The material has been provided by InstaForex Company -
www.instaforex.com
from
RobotFX