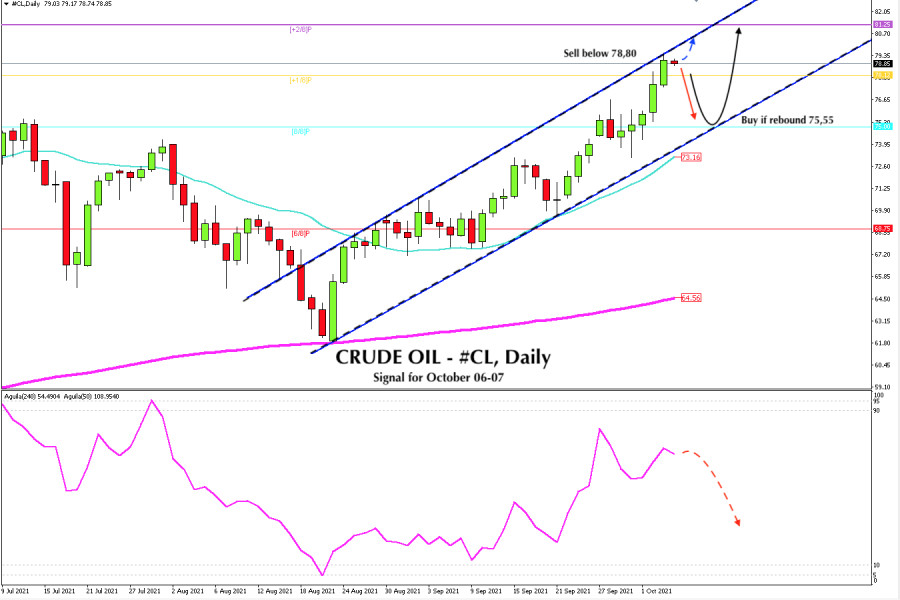 Crude Oil (WTI) has been rising for four consecutive days. Yesterday, it reached a high of 79.47, close to the psychological level of 80.00. This level was trading in November 2014, for now there is no sign of a reversal, but there could be a technical correction because the price has touched the top of the bullish channel on the daily chart.
Since August 23, when crude found a bounce at the 200 EMA around 61.81, it started a bullish wave. Since then, every correction it made was only to resume the uptrend. WTI is likely to continue its rise to + 2/8 of murray located at 81.25.
Yesterday the API weekly reserves were published. Crude inventories were + 0.95M. This data stopped the upward force. OPEC + is expected to act in the next few days and give relief to this upward wave. If the price of crude oil becomes more and more expensive, it could affect the economic recovery globally.
On the other hand, market sentiment remains optimistic, crude is also being supported by stock indices such as the Dow Jones and the Nasdaq that rise between 0.75% and 1.61%. While remaining below the psychological level of 80.00, a technical correction is expected towards the support level of 75.00.
The short-term outlook according to the daily chart is still bullish with a target of 81.25. However, the volume has not increased yet. Each time it goes down, this is a negative sign, according to the eagle indicator. Therefore, only if the price of Crude Oil remains below 78.80 where the SMA of 21 is located in 1-hour charts, there will be a technical correction towards the EMA of 200 at 75.55.
As long as WTI trades above 79.00, we should expect a bullish move to the 80.00 level. A break above this level could quickly rise the price to the extreme resistance of +2/8 murray located at 81.25. You can continue buying as long as crude remains above 78.80.
The strategy is to sell below 78.80 with targets at 75.55. A bounce around 75.00 will be a good opportunity to buy crude with targets at 80.00 and 81.25. The eagle indicator is showing an overbought signal.
Support and Resistance Levels for October 06 - 07, 2021
Resistance (3) 81.25
Resistance (2) 80.68
Resistance (1) 79.88
----------------------------
Support (1) 77.87
Support (2) 76.66
Support (3) 75.86
***********************************************************
Trading tip for CRUDE OIL for October 06 - 07, 2021
Sell below 78.80 (SMA 21- H1) with take profit at 76.66 and 75.55 (EMA 200-H1), stop loss above 79.50.
The material has been provided by InstaForex Company -
www.instaforex.com
from
RobotFX