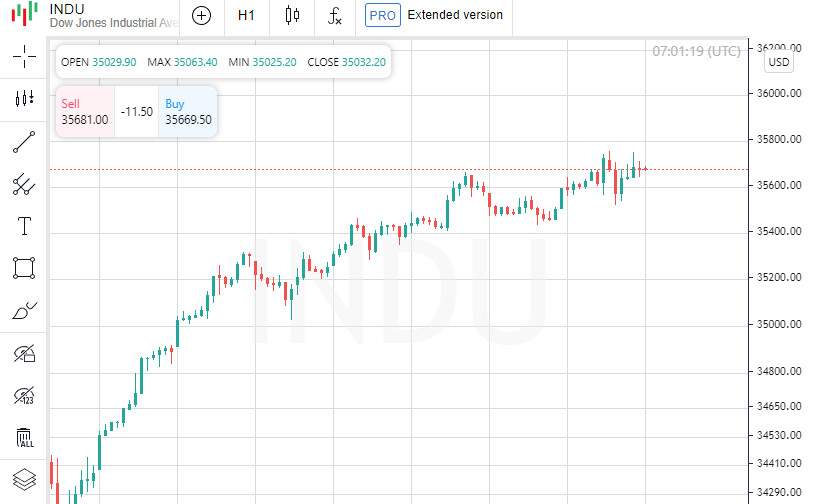 The Dow Jones Industrial Average has updated its all-time high (for the first time since August). At the same time, the Standard & Poor's 500 and Nasdaq Composite declined as technology stocks fell, which came under pressure as Intel and Snap's financials for the past quarter were below market forecasts.
The Dow Jones Industrial Average increased by 73.94 points (0.21%), that is, up to 35677.02 points. The Standard & Poor's 500 value decreased by 4.88 points (0.11%) during the day, amounting to 4544.9 points. The Nasdaq Composite fell by 125.5 points (0.82%), that is, to 15090.2 points.
Last week, the Dow Jones rose 1.1%, the S&P 500 rose 1.6% and the Nasdaq climbed 1.3%.
One of the world's leading manufacturers of computer components Intel Corp. increased net profit by 60%, and revenue by 5% (and its growth was noted for the first time in 5 quarters). However, the company's largest division of Client Computing Group (which includes production of processors for PCs) decreased by 2%, due to the lack of components. The indicator was $ 9.7 billion with an average forecast of experts at $ 9.61 billion. Intel's share price fell 11.7% on Friday.
Snap Inc. collapsed by 26.6%. The owner of the Snapchat app reduced its net loss in the third quarter and increased its revenue by 57%. At the same time, the company predicts weaker-than-expected performance for the holiday season, attributing this to supply chain disruptions and changes by Apple Inc. in your privacy settings.
Facebook Inc. stock quote declined 5.1%, Twitter Inc. - by 4.8%, Alphabet Inc., a holding company of Google, - by 3%, Apple - by 0.5%.
According to Refinitiv, 84% of companies reporting for the 3rd quarter had better-than-expected earnings per share.
Toy manufacturer Mattel Inc. rose 0.6% as its quarterly earnings and revenues exceeded experts' expectations.
Home appliance manufacturer Whirlpool Corp. increased net income in the 3rd quarter by 20%, better than forecast. The company's shares added 2.7% in price.
American Express Co., one of the leaders in the American plastic card market, achieved better-than-expected financial results in the third quarter thanks to continued growth in consumer spending and a further recovery in tourism and recreation. AmEx shares jumped 5.4%.
The market was restrained by the announcement of the chairman of the Federal Reserve System Jerome Powell that the American labor market could reach maximum employment next year. This is one of the main factors for the Fed to start raising interest rates.
As part of another event on Friday, the head of the US Central Bank said that the Fed would raise interest rates if it sees serious risks of rising inflationary expectations. According to him, the high rate of increase in consumer prices is likely to continue next year. Supply problems are pushing prices higher and it is difficult to predict when this situation will return to normal.
Industrial activity index PMI, calculated by IHS Markit, in October fell to 59.2 points against 60.7 points a month earlier. A similar indicator of the service sector, on the contrary, increased to 58.2 points from 54.9 points. The aggregate figure also increased - to 57.3 points from 55 points.
Analysts on average forecast an industrial PMI of 60.3 points and a service sector PMI of 55.1 points, Trading Economics reported. They rated the composite indicator at 54 points.
The material has been provided by InstaForex Company -
www.instaforex.com
from
RobotFX