BTC at all-time highs
On Wednesday, November 10, bitcoin dropped by $5,000 after the release of the US inflation report. At the same time, the greenback skyrocketed. The US stock market has entered a correction, while BTC went down from its recent highs. Generally speaking, amid high inflation in the United States and the possibility of monetary policy tightening by the Federal Reserve in the coming months, the flagship cryptocurrency could soar to $100,000 this year. Bitcoin remains a hedge against inflation. Since inflation is on the rise, more investors are willing to hedge it. However, there is the flip side of the coin: the higher is inflation, the more likely it is that the Federal Reserve tightens monetary policy earlier. Moreover, the regulator said inflation could stay at high levels longer than anticipated. The question is: Why is the US central bank so reluctant to begging to tighten policy when the situation with prices is getting worse?
Apple CEO invests in bitcoin and ether
There has been a bit of interesting news in the cryptocurrency market lately. Apple CEO Tim Cook announced the other day that he invested in bitcoin and ether and that it was smart in terms of risks diversification. Cook did not mention the exact volume of digital assets purchased but stressed that holding cryptos was his personal choice and it did not mean that the company would incorporate BTC or other altcoins in its activities. Apple did not plan to use cryptocurrencies. A similar statement was made by Tesla CEO Elon Musk. He said that investing in bitcoin, ether, and Dogecoin was his private matter. Elon Musk is known as a massive fan of digital assets and a cryptocurrency market manipulator. After his tweets, prices either skyrocketed or nosedived. The recent Twitter poll revealed that Musk should sell 10% of Tesla stock to pay taxes. The Tesla and SpaceX CEO had not yet reacted to the result of the poll, but the crypto community was already contemplating where Musk could invest this money.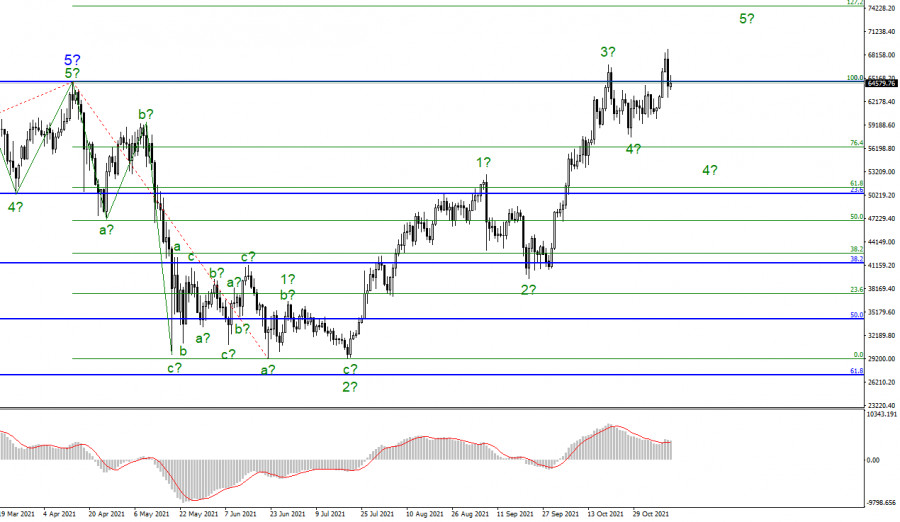 In recent weeks, BTC has been traded steadily in the range. Eventually, however, the bullish trend resumed as seen from the chart. Thus, the instrument went above the high of supposed Wave 3. On the chart, there is now an impulsive 5-wave structure that began to form on July 20. If so, Wave 5 is now building up within this structure. At the same time, even such a clear structure raises doubt. Firstly, Wave 4 may acquire a 3-wave form as Wave 2 did. Lastly, the wave structure forming since September 21 may appear to be Wave 3. If so, Waves 4 and 5 could start to form later. Therefore, there could be just one conclusion: BTC is now located too high to be bought. So, market participants should be very cautious when going long. At the same time, if Wave 3 is now forming, bitcoin could soar to $100,000 in the next 2-3 months.
The material has been provided by InstaForex Company -
www.instaforex.com
from
RobotFX