BTC's 2nd failed attempt to break through $56,361 barrier
On Thursday, November 25, Bitcoin rose by $1,500 after its second failed attempt to break through the $56,361 barrier (76.4% Fibonacci level). It is a very important mark. A breakout there is likely to trigger a deeper correction. According to Glassnode analysts, many long-term investors keep buying out all available BTC volumes on exchanges, preventing the rate to go down. So far, it has been an accurate assumption since the price failed to fall below the abovementioned point. So, there is a likelihood that the current uptrend structure will become more complex. At the same time, the asset failed to break through the barrier twice in two days. This could indicate the completion of the first wave of the new uptrend.
IMF calls on El Salvador to re-evaluate its decision on Bitcoin
As a reminder, El Salvador adopted BTC as legal tender. It was reported that the county is now planning to build the world's first Bitcoin city with no taxes other than the VAT. El Salvador's President Nayib Bukele intends to raise about $1 billion through the placement of Bitcoin bonds. Half of these funds will be used for building the city. It is difficult to say who would want to live in El Salvador, albeit in a city without taxes. Nevertheless, this is a very interesting idea. However, not everyone finds it appealing. The International Monetary Fund called on El Salvador's government to re-evaluate the decision to make BTC legal tender. According to the Fund, the country's authorities are not fully aware of all the financial and consumer risks related to cryptocurrency. They reminded the El Salvador government of bitcoin's high volatility and offered to limit the area of the use of the digital asset as well as tighten cryptocurrency regulation.
Meanwhile, JPMorgan said ether is better than bitcoin for long-term investments because it is less dependent on fundamental factors. ETH has surged 6 times since the beginning of the year compared to BTC that only doubled gains.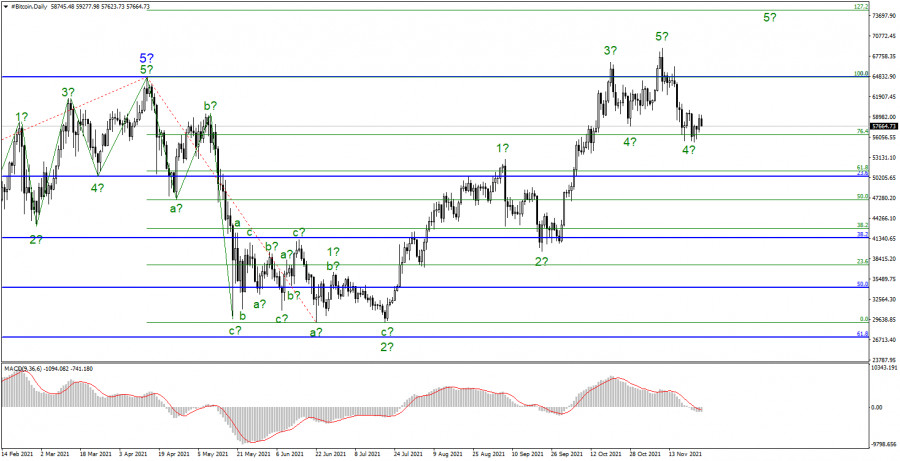 The current uptrend structure still looks clear. The wave layout cleared up after the instrument went above the high of supposed Wave 3. On the chart, there is now an impulsive 5-wave structure that began to form on July 20. However, in the last two weeks, the price has been pulling back from the highs, meaning that Wave 5 is about to complete soon. This wave will look shorter if Bitcoin breaks the $56,361 barrier successfully. Otherwise, Wave 4 could split into three smaller ones and Wave 5 could start to form with targets at about $74,000. If so, the price will continue to decline within the first wave of a new downtrend section. The formation of this section could be completed in 1-2 months. Meanwhile, BTC will be heading towards $45,000.
The material has been provided by InstaForex Company -
www.instaforex.com
from
RobotFX