Yesterday's Federal Reserve meeting was a little "softer" than the markets expected. The central bank cut the asset repurchase program on its balance sheet by $15 billion a month, but strenuously stressed that there is still a long way to a rate hike. Investors reacted accordingly - they sold the dollar. Moreover, the trading volumes were not large, slightly above average, and almost the entire volume was selected in the first hour after the release.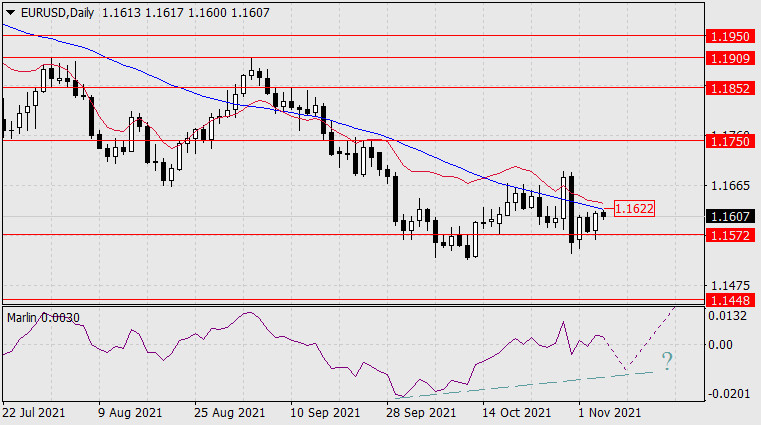 On the technical side, the likelihood of growth, of course, increased, but strategically the situation remained the same as a day ago; for the growth to develop, the price must settle above the MACD line on the daily chart, above 1.1622. And if the price goes below the level of 1.1572, the risk of price convergence with the Marlin Oscillator opens up again. But as this probability has become lower, it is now indicated by the dotted lines.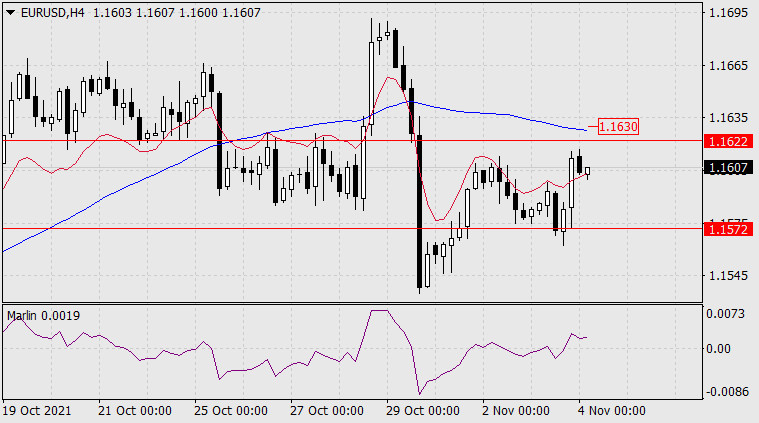 On the four-hour chart, the main change was that the price went above the balance indicator line. If yesterday's initial momentum is maintained, the price will break above 1.1622 and above 1.1630, breaking the MACD line on its timeframe. The Marlin Oscillator is in the positive area. The price has a chance to rise. But... the probability of a price increase is 55%. This is due to the fact that at the same time as the price rises, the technical pressure on it also increases. As mentioned above, strategically, nothing has changed over the past day. Today is likely to pass in anticipation of the market's decision in such a difficult situation.
The material has been provided by InstaForex Company -
www.instaforex.com
from
RobotFX