Yesterday the pound tried to repeat Monday's scenario, but it ended up staying at the same highs where it started trading day. The reason for the failed attempt at further growth, however, can be found in the US producer price index, which has remained unchanged. This gives hope that the rise in inflation could stop as soon as next month. And there should also be a full reversal to the positions in which the market was at the very beginning of the trading week, as investors are preparing for the publication of the inflation data in the United States on Monday. But that didn't happen because yesterday's producer price index data won't have any effect on today's inflation data. Both indicators are published for October and the Producer Price Index is a leading indicator and will affect the data for November.
Producer Price Index (United States):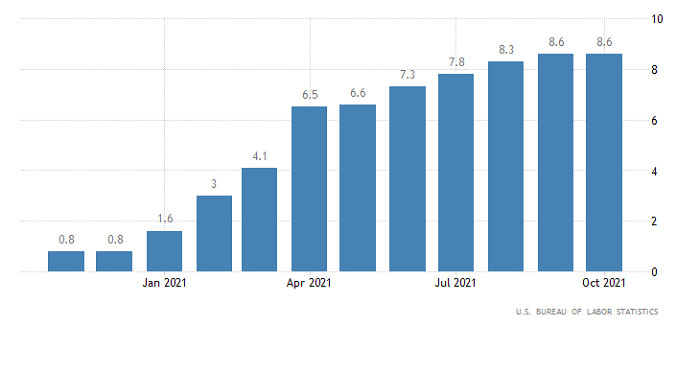 Despite the slight slowdown, the pound is almost certain to resume its growth today, just on the back of inflation data, which should accelerate from 5.4% to 5.7%. And this is in the best scenario, as there is a high probability of inflation rising to 5.8%. Such a high rate of inflation is extremely negative and poses a significant threat to economic recovery. However, the worst thing is that the Federal Reserve seems to have decided to hold off on introducing price-cutting measures. However, the fall in the dollar will not be strong as it will be supported by the unemployment claims data. Although data is published on Thursdays, this time it was published on Wednesday. So, the number of initial claims is expected to drop by 5,000 while the number of repeat claims is expected to drop by a further 54,000. However, this is not enough to change the general direction of the movement. The result can only slightly dampen the scale of the US dollar's weakening.
Inflation (United States):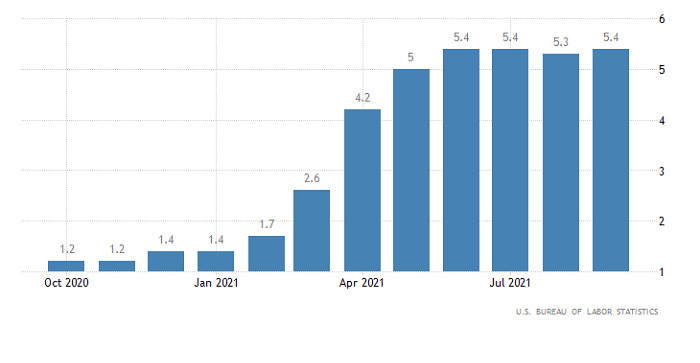 Britain's national currency reached resistance at 1.3600 in a corrective move, where there was a logical decline in short positions. This led first to a pullback and then to a price stagnation.
The RSI rose above the 70% mark in the hourly period. This indicated a signal of overbought pound sterling in local consideration.
The daily chart shows a gradual process of medium-term trend reversal, where there is not much left before the update of the local minimum in 2021.
Expectations and prospects:
In the current situation there is a process of accumulation of trading forces, represented as a consolidation on the chart. The signal levels are 1.3520, if sell positions are considered, and 1.3605 in case corrective movement is resumed.
Comprehensive indicator analysis has a variable signal based on short-term and intraday periods due to a consolidation move.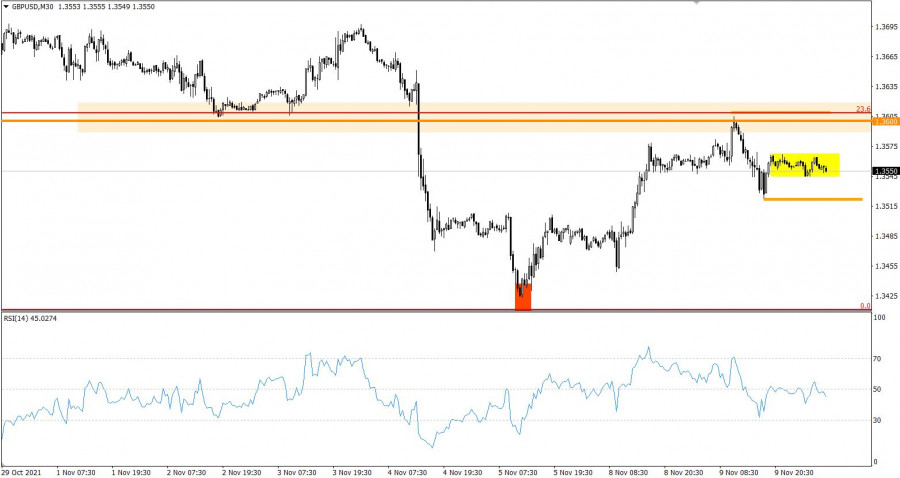 The material has been provided by InstaForex Company -
www.instaforex.com
from
RobotFX