The week began with endless revisions of forecasts for US macroeconomic statistics, and exclusively for the better. But if the European session began with an increase in the forecast of today's data on business activity indices, then at the opening of the US trading session, expectations for home sales in the secondary market in the United States were slightly improved. That was the reason for the dollar's growth. So when it became known that these same sales did not decrease by 1.0%, but increased by 0.8%, the market in general did not react to this in any way. Moreover, the data themselves were published rather late.
Secondary Home Sales (United States):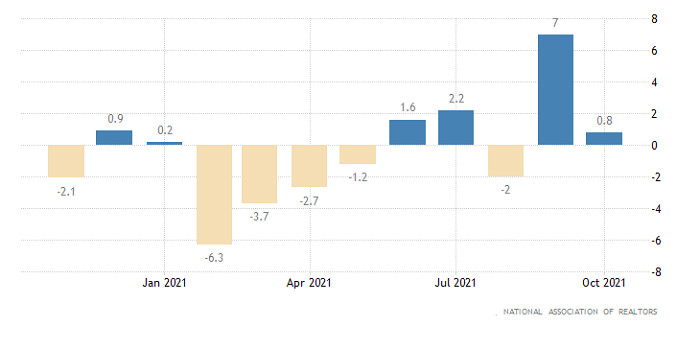 Today the pound will again be marked by a further decline. The reason, of course, will be preliminary estimates of business activity indices, forecasts for which are extremely unpleasant. Thus, the index of business activity in the service sector should decrease from 59.1 points to 58.3 points. The manufacturing index may well fall from 57.8 points to 57.1 points. As a result of all this, the composite PMI will almost certainly decrease from 57.8 points to 57.3 points.
Composite PMI (UK):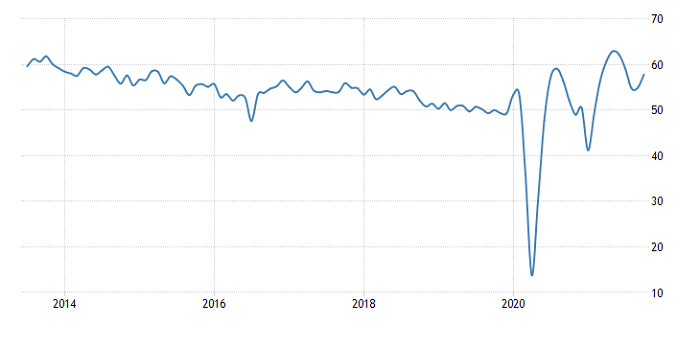 Similar data for the United States, forecasts for which were revised yesterday morning, are likely to lead to the fact that the dollar will grow after the opening of the US trading session. After all, the index of business activity in the manufacturing sector should rise from 58.4 points to 58.8 points. The index of business activity in the service sector may well grow from 58.7 points to 59.0 points. As a result, the composite index should increase from 57.6 points to 58.2 points. And even if a small growth is expected, the contrast itself is important here, that in Europe there is a decrease, and in the eurozone, growth, which will become the main driving force.
Composite PMI (United States):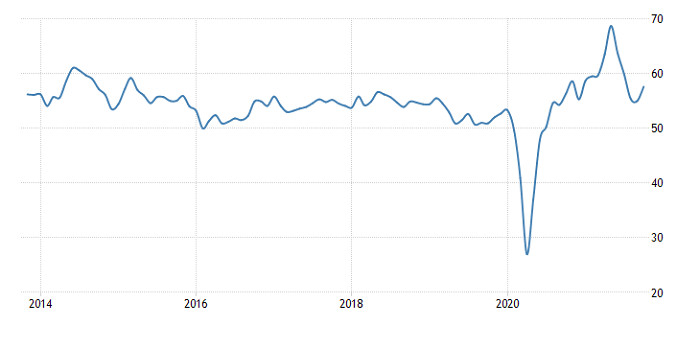 The GBPUSD currency pair has practically retraced its downward trend relative to the recent correction. Staying below the 1.3400 level indicates the prevailing interest in short positions. In the long term, this will lead to an update of the local low of November 12.
The technical instrument RSI in the hourly period is above the oversold zone, despite the growing interest in sell positions. This confirms the signal about the prolongation of the downward cycle to new price levels.
On the daily chart, there is a downward trend from the beginning of June, the scale of which is 880 points.
Expectations and prospects:
Keeping the price below the level of 1.3400 will eventually lead to a movement towards the pivot point of 1.3350. In the long term, the support level will be broken by speculators.
Comprehensive indicator analysis gives a sell signal based on short-term, intraday and medium-term periods in view of a downward cycle.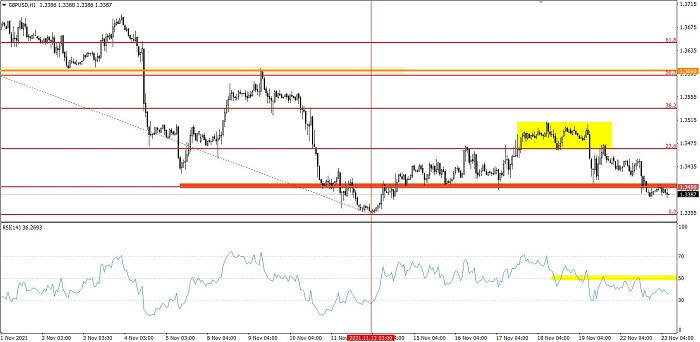 The material has been provided by InstaForex Company -
www.instaforex.com
from
RobotFX