Despite a 20% correction, demand for BTC is still buoyant.
On Wednesday, November 24, Bitcoin again traded lower and made another attempt to break the level of $56,361 that matches 76.4% Fibonacci correction. Let me remind you about the importance of this level. If the bears eventually make a successful attempt to break it, the door will be open for a new downward wave. This will give great trading opportunities to the sellers. If the buyers are able to hold the price above $56,361, the wave layout of the uptrend will get complicated and Bitcoin cold make efforts to update the highs of 2021 once again.
According to the latest report by Glassnode, long-term investors are keeping their positions open and still increasing their digital holdings. I told you earlier that according to some estimates almost 82% of Bitcoins are kept in wallets of long-term investors. At the same time, there is a subtle difference between long- and short-term traders. Indeed, in case of a serious nosedive, a lot of long-term traders could easily turn into short-term ones, thus escalating a slump of the crypto. Nevertheless, Glassnode is certain that long-term investors are still carrying on buying all available tokens, taking advantage of a 20% discount. Strong demand benefits the flagship cryptocurrency, preventing it from a deeper plunge.
BTC buyers, who enter the market at the early stage of the uptrend, are anticipating fat profits.
The final wave of the uptrend began at near 30,000. Most investors were buying Bitcoin at $30-35,000. Therefore, some analysts reckon that those who bought tokens at such lows might not be interested in profit taking now. This is the reason why long-term investors are still keeping Bitcoin in their wallets. They are waiting for a higher price to lock in profits.
At the same time, they might not be willing to sell tokens if the price leaps to $120,000. Market sentiment is a like a sensitive barometer that could instantly push a price in any direction. Bitcoin is highly sensitive to market sentiment. I'd like to turn your attention to the fact that a decline in BTC price means the glut of digital tokens in the market at present. In other words, no matter how hard long-term investors endeavor to buy all BTC tokens available in the market, they are not able to do but them all at the moment. If the price settles below $56,361, more and more sellers will enter the market. As the timeline for a Fed's rate hike is approaching, an increasing number of investors will be poised to sell crypto and other risky assets.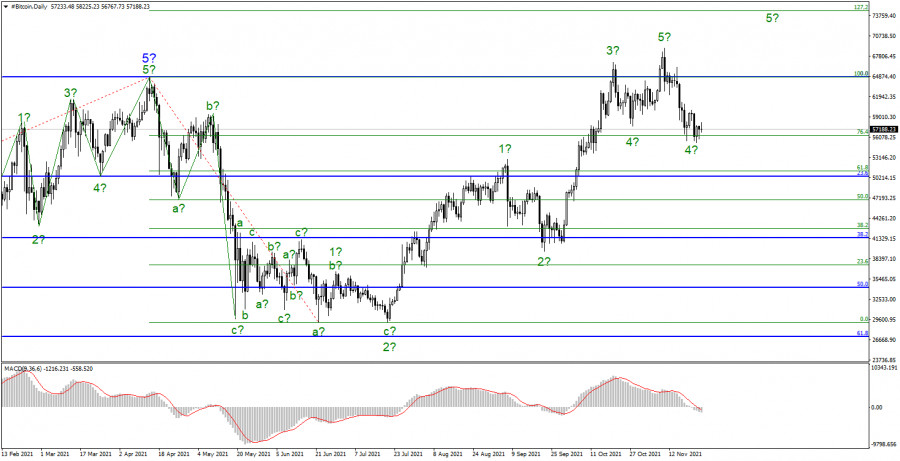 The ongoing uptrend section still does not make me doubt. The wave layout cleared up after Bitcoin made a successful attempt to break the high of wave 3. Now the whole picture looks like an impulsive 5-wave uptrend section that came into being on June 20. However, in the last two weeks the price has been pulling back from the highs. It could mean that wave 5 is about to complete soon. This wave will look shorter. I'm in favor of this scenario if Bitcoin breaks $56,361 successfully. If no, wave 4 could split in three smaller waves that could be followed by a formation of wave 5 with targets at about 74,000.
To sum up, I expect a successful breakout of 56,361. In this case, the price will continue a decline during the first wave of a new downtrend section. This section could be built in 1-2 months in full. Meanwhile, Bitcoin will be heading towards 45,000.
The material has been provided by InstaForex Company -
www.instaforex.com
from
RobotFX