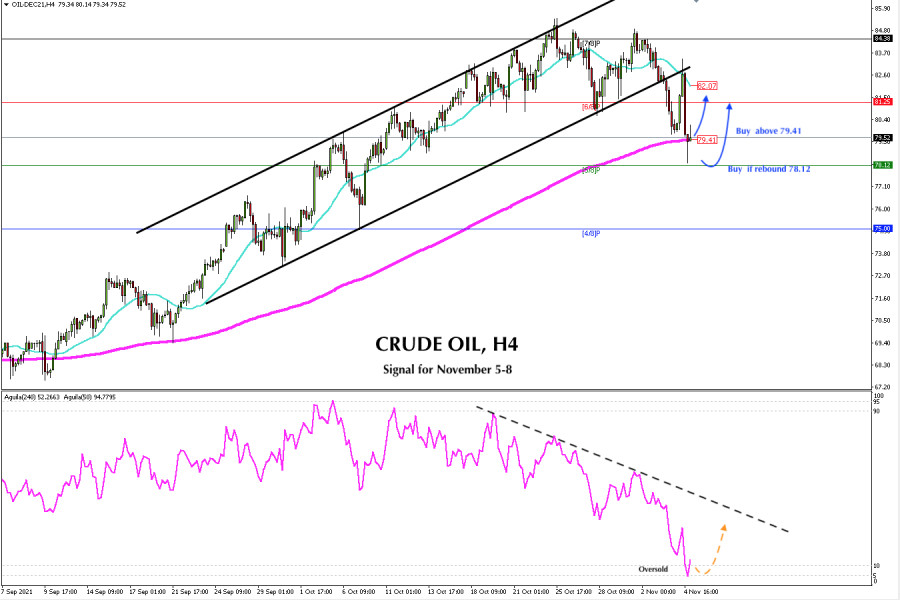 The main trend for crude oil is still bullish because it is still above the 200 EMA located at 79. 41. Yesterday in the American session, WTI was trading below this level for a few hours. Now in the Asian session, it is recovering part of the loss and is consolidating again above the 200-day moving average.
On November 3, crude sharply broke the uptrend channel that had been formed since September 9. This is a negative sign and crude has probably reached a key resistance level around 85.35. We do not know if it is the end of the uptrend, but it is likely that in the coming days crude oil will be able to consolidate or trade within a price range between 78.12 (5/8) to 82.07 (SMA 21).
On November 3, crude inventories data was published and the result was that 3.3 million barrels remained in inventories compared to last week. This was a negative signal for crude oil and we saw a rapid fall below the level of 82.60.
After the announcement of its monetary policy by the Fed, crude rebounded until testing the uptrend channel that was broken, making a confirmation pullback. From the level of 83.39, WTI fell almost 500 pips to the low of 78.25, retreating to price levels from October 8th.
After having fallen below the 21 SMA (82.67), WTI reached 5/8 of a murray around 78.25. From this level, we are seeing a technical rebound and the price is likely to consolidate again above the 200 EMA. You should consider this key level to buy in the next few days as long as it remains above 79.41.
The eagle indicator has reached the 5-point level on November 4. This represents extremely oversold levels. A technical bounce is likely to take place in the next few hours there. Or we could see a fall towards the zone of 78.12 and then a consolidation. If crude manages to stay above 79.41, it will be an opportunity to buy again targeting the 21 SMA.
Our trading plan in the next few hours is to buy above the 200 EMA with targets at 81.25, where the 6/8 murray is located. If the upward movement continues, WTI could touch the 21 SMA around 82.07. On the contrary, a technical drop around 5/8 of murray will give us an opportunity to buy at low prices with the same targets already mentioned.
Support and Resistance Levels for November 05 - 08, 2021
Resistance (3) 82.39
Resistance (2) 81.25
Resistance (1) 80.32
----------------------------
Support (1) 78.34
Support (2) 77.25
Support (3) 76.07
***********************************************************
A trading tip for CRUDE OIL for November 05 - 08, 2021
Buy above 79.41 (EMA 200) with take profit at 81.25 and 82.07 (SMA 21), stop loss below 78.80.
Buy if WTI rebounds off 78.12 (5/8) with take profit at 81.25 and 82.07 (SMA 21), stop loss below 77.50.
The material has been provided by InstaForex Company -
www.instaforex.com
from
RobotFX