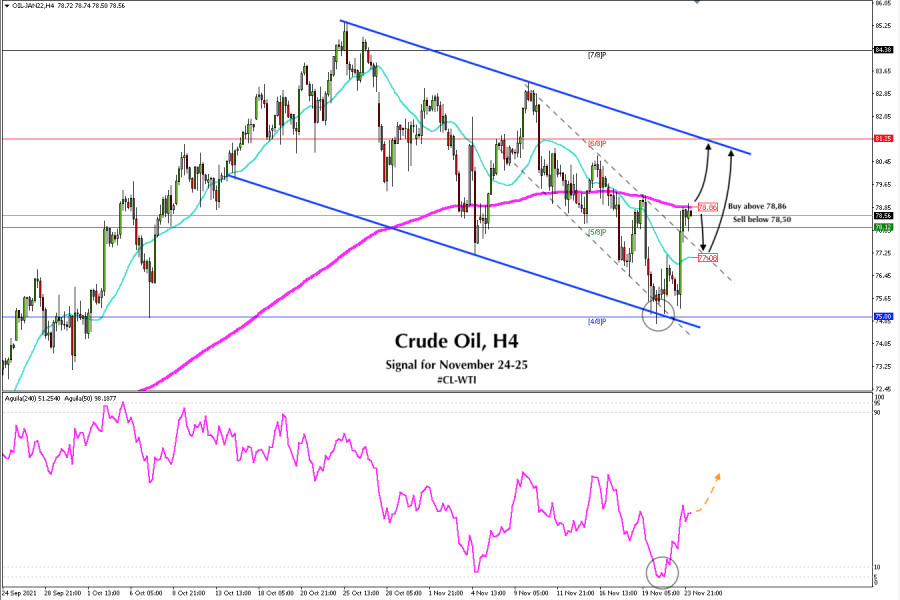 Crude price (WTI - # CL) is trading just below the 200 EMA. This zone represents strong resistance that coincides with last week's pivot level.
A correction is expected in the next few hours towards the 21 SMA located at 77,08. A technical bounce at this level could be a good opportunity to continue buying crude with targets at 81.00.
Crude has been rebounding from the low of 75.00 and is now trading above the 21 SMA. This technical bounce gives it a positive outlook. If WTI consolidates above 78.86 in the next few hours, it could continue its bullish move towards the resistance of 6/8 murray.
Since October 25, crude oil has been trading within a downtrend channel. This channel has been tested several times and now WTI is likely to try breaking the top of the bearish channel in the next few hours, only if it consolidates above 81.25.
On November 4, a steeper secondary channel also formed, this was broken yesterday. This represents a positive signal that could support our bullish strategy. We believe that in the next few hours crude will continue its recovery until the price reaches the level of 81.25.
We saw a sharp break and termination of this downward trend channel. If the price crosses the level of 81.25, we could expect crude to reach 84.38. In that area, crude oil left a GAP on October 27 and it remains to be covered.
On the other hand, if crude falls below 77.08, we can expect there to be a downward movement and the price could reach the level of 75.00. Later, if this strong support is broken, the price could fall to the level of 71.88 (3/8).
On Tuesday, November 23, the United States announced that it would release up to 50 million barrels of oil available in the strategic oil reserve. This initiative was also joined by China, India, South Korea, Japan and the United Kingdom, with the aim of limiting the rise in oil prices and helping to stabilize the economy.
Support and Resistance Levels for November 24 - 25, 2021
Resistance (3) 81.25
Resistance (2) 79.80
Resistance (1) 79.18
----------------------------
Support (1) 77.13
Support (2) 76.25
Support (3) 75.00
***********************************************************
A trading tip for Crude Oil for November 24 - 25, 2021
Buy above 78.86 (200 EMA ) or buy if rebound at 77.08, with take profit at 80.00 and 81.25 (6/8), stop loss below 78.20.
The material has been provided by InstaForex Company -
www.instaforex.com
from
RobotFX