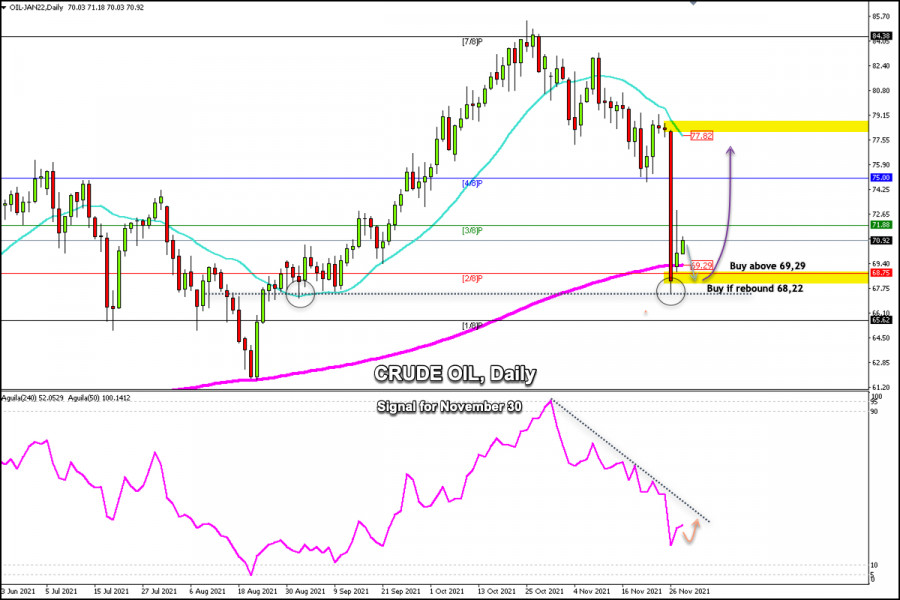 On November 26, Crude (WTI - #CL) fell more than 1,000 pips in just one day, being the second worst fall after April 21, 2020 when it reached prices of $ 6.83 per barrel.
Crude fell to the low of September 1, 2021 at 67.39. Low liquidity in the market also added to the fears about the impact of the omicron coronavirus variant of the coronavirus. This was the perfect combination of factors for crude oil to fall with a volatility of 45 pips per hour, losing more than $ 10 in its price.
Last week, the initiative of the US together with China, India, Japan, and the United Kingdom to release their strategic reserves did not have much impact on the price of crude oil. However, the new variant of COVID-19 did cause a sharp drop in price as investors believe it could have a strong impact on demand for crude.
In the daily chart, crude reached the 200 EMA located at 69.29 and up to 2/8 of Murray at 68.75. At the opening of the Asian session this week, it left a GAP of 98 pips between 68.22 - 69.20. A part of this gap was covered but is expected to be completed in the next few hours.
Our trading plan is to buy if crude closes the GAP around 68.22. On the other hand, if crude bounces around the 200 EMA (69.29), it will also be an opportunity to buy with targets at 71.88 and 75.00 (4/8).
A strong support is located at 67.40. While crude remains above this level, a recovery is expected in the coming days. On the other hand, with a consolidation above 69.29 the outlook will be more optimistic and there could be a technical rebound towards the 21 SMA located at 77.82 in the short term.
Support and Resistance Levels for November 30, 2021
Resistance (3) 74.66
Resistance (2) 72.36
Resistance (1) 70.60
----------------------------
Support (1) 68.30
Support (2) 66.54
Support (3) 65.62
***********************************************************
A trading tip for Crude Oil November 30, 2021
Buy above 69.29 (EMA 200) with take profit at 71.88 (3/8) and 75.00 (4/8), stop loss below 68.70.
buy if rebound 68.22 (GAP) with take profit at 71.88 (3/8) and 75.00 (4/8), stop loss below 67.80.
The material has been provided by InstaForex Company -
www.instaforex.com
from
RobotFX