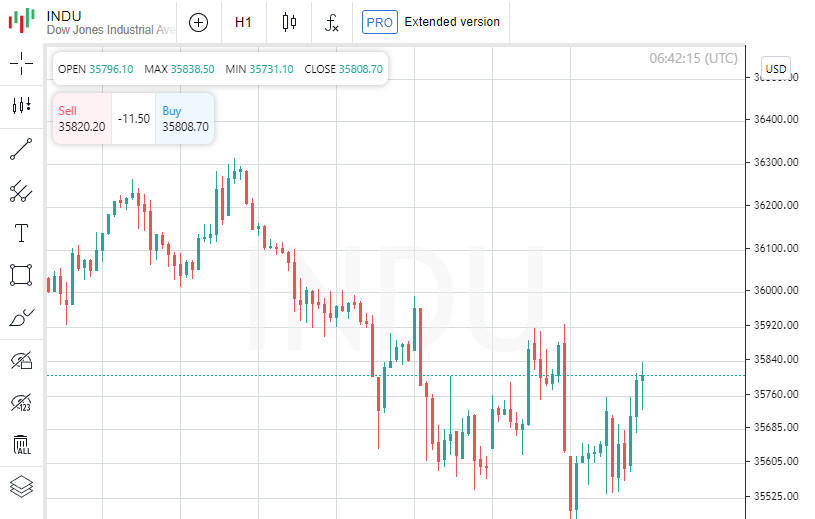 The Dow Jones Industrial Average rose 194.55 points (0.55%) to 35813.8 points. Standard & Poor's 500 increased by 7.76 points (0.17%) and amounted to 4690.7 points. The Nasdaq Composite lost 79.62 points (0.5%) to 15,775.14 points.
Alphabet Inc. fell 0.4% in price on Tuesday, Microsoft Corp. fell 0.6%, Meta Platforms (formerly Facebook Inc.) fell 1.1%.
On Tuesday, US President Joe Biden announced that the United States would sell 50 million barrels of oil from the strategic reserve to lower oil prices. Washington will take this step at the same time as China, Japan, India, South Korea and the UK.
Oil prices reacted with a confident rise to the White House statement. Chevron Corp. rose 2.1%, Exxon Mobil Corp. - 2.6%.
IHS Markit data released on Tuesday showed an increase in activity in the US manufacturing sector and a weakening in the service sector. Industrial PMI calculated by IHS Markit in November increased to 59.1 points from 58.4 points in October. A PMI reading above 50 points indicates an increase in activity in the sector. Meanwhile, the PMI of the services sector dropped to 57 points from 58.7 points in October.
The shares of the largest US bank JPMorgan Chase & Co. rose 2.4% by the end of trading, Goldman Sachs Group Inc. - 2.6%. The International Financial Stability Board (FSB) yesterday announced tightening capital requirements for both banks, the decision will come into force in 2023. Thus, JPMorgan's capital adequacy ratio will have to exceed the minimum requirements by 2.5 percentage points (pp), and not by 2 pp, as at present. In the case of Goldman Sachs, the additional capital buffer should rise to 1.5% from 1%.
Zoom Video Communications fell 14.7%. The remote conferencing company posted a 71.6% increase in net income in its fiscal third quarter, but gave a weak outlook for the current period.
Abercrombie & Fitch Co. fell in price by 12.6%. The apparel chain's quarterly results beat market forecasts, but Chief Executive Officer Fran Horowitz warned of continued supply chain problems and higher raw material prices.
Discount store operator Dollar Tree added 9.2%. The company's quarterly profit was in line with forecasts, and revenue exceeded market expectations. In addition, Dollar Tree, which has sold most of its products at $ 1 for the past 35 years, has announced a price hike to $ 1.25.
Trading activity on the American stock market is declining as Thanksgiving Day approaches in the United States. Markets will be closed on Thursday due to the holiday and will reopen on Friday.
The material has been provided by InstaForex Company -
www.instaforex.com
from
RobotFX