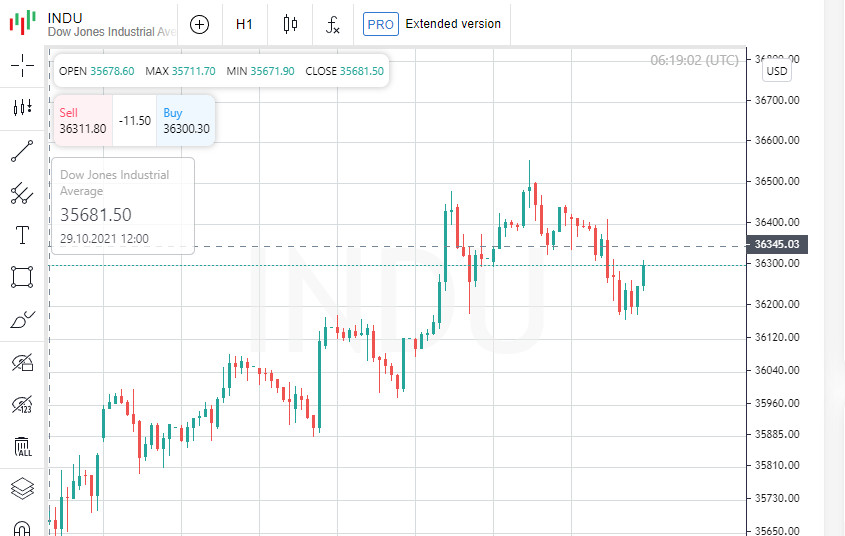 The Dow Jones Industrial Average on the basis of trading on Tuesday fell by 112.24 points (0.31%) and amounted to 36319.98 points.
Standard & Poor's 500 fell by 16.45 points (0.35%) - to 4685.25 points.
The Nasdaq Composite lost 95.81 points (0.6%) to 15886.54 points.
Some investors saw the market pullback as a little respite after several days of continuous gains. Strong company reports for the third quarter support the stock market, despite continued investor concerns about rising inflation and supply chain problems.
Statistics released on Tuesday showed a slight increase in the rate of rise in producer prices in October compared to the previous month - to 0.6% from 0.5% in September. The acceleration in growth was largely due to the rise in gasoline prices (6.7%). On an annualized basis, US producer prices jumped at a record 8.6%, as in the previous month.
In addition, the National Federation of Independent Business reported that the small business optimism indicator dropped 0.8 percentage points in October, to 98.2 points, the lowest since March.
General Electric Co. rose 2.7% by the end of trading on Tuesday. The American concern announced that it will split operations into three independent public companies.
Tesla Inc. lost almost 12% in price.
The price of securities of the developer of the online video game platform Roblox Corp. soared by 42%.
Car rental Hertz Global Holdings Inc. plunged 9.8% on its Nasdaq debut.
Boeing shares fell 0.9%.
Cruise operator Royal Caribbean's share price fell 2.5% on news of the imminent resignation of the company's chief executive Richard Fane, who has held the post since 1988.
The material has been provided by InstaForex Company -
www.instaforex.com
from
RobotFX