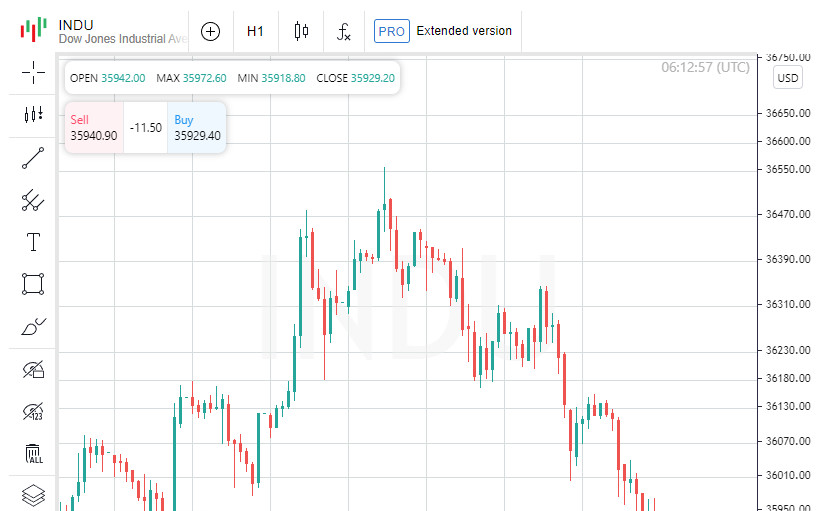 The Dow Jones Industrial Average fell 158.71 points (0.44%) to 35921.23 points. Standard & Poor's 500 rose by 2.56 points (0.06%), that is, to 4649.27 points. The Nasdaq Composite gained 81.58 points (0.52%) and amounted to 15704.28 points.
Tesla Inc. Stock Quote decreased by 0.4%. Tesla CEO Elon Musk this week sold shares in the company for a total of about $ 5 billion. On Monday, he exercised options to buy more than 2 million Tesla shares, which he received as compensation, for a total of $ 2.5 billion. options amounted to about $ 13.4 million.
Lordstown Motors Corp. rose 23.2% after rising more than 20% in additional trading on Wednesday. The electric car maker has struck a deal to sell its plant to Foxconn for $ 230 million.
Twitter Inc. Papers decreased by 0.7%. The company is creating a team that will develop a strategy for the future use of cryptocurrencies and blockchain technology in general within the social network.
Walt Disney Co. decreased by 7.1%. The world's largest entertainment and media company posted weaker-than-expected earnings and revenues in its fiscal fourth quarter and saw a significant slowdown in subscriber growth for its Disney + streaming service.
Beyond Meat shares fell 13.3%. The American manufacturer of plant-based meat substitutes increased its net loss 2.8 times, while its revenue was worse than forecast.
Yesterday, traders' attention was focused on the statistics published the day before, which indicated a significant acceleration of inflation in the US last month.
According to the Department of Labor, consumer prices in the United States in October rose by 6.2% compared with the same month last year - the highest rate in almost 31 years (since November 1990). A month earlier, inflation in the US was 5.4%, and experts expected it to accelerate in October to 5.8%.
The jump in energy prices in the United States last month amounted to 30% in annual terms, gasoline rose in price by 49.6%. The rate of growth in the cost of food, which amounted to 5.3%, was the highest since January 2009.
According to Ryan Detrick, senior market strategist at LPL Financial, inflation remains steadily high, surprising many who expected prices to return to normal more quickly. He also added that it is impossible to close the $ 20 trillion economy and not feel obstacles in the process of opening it, but we hope that supply chain problems will be resolved in the coming months, and inflation will stabilize.
The material has been provided by InstaForex Company -
www.instaforex.com
from
RobotFX