Analysts hope the uptrend continues
Bitcoin is slowly rising from its lows as of December 3. Its price movements look the following way: BTC plunges within 2 days and bounces from its lows, increasing by $7,000. Then, the digital asset adds another $2,500 within 4 days. Generally speaking, the flagship cryptocurrency keeps recovering after a $27,000 plunge. It could be the formation of wave (b) as part of a new downtrend section, but we will talk about waves a bit later. I'd like to point out that many crypto analysts still believe that the uptrend continues. Earlier, they expected Bitcoin to touch the $100,000 mark by the end of 2021. Now they say it will happen in early 2022. It is still very difficult to say what such predictions and conclusions are based on. Not so long ago, well-known analyst PlanB, whose Stock-to Flow model predicted all significant movements in Bitcoin in recent years, failed, and the target of $98,000 was not achieved. I think any model can fail, so you always need to hedge yourself and consider alternative options.
Glassnode: BTC correction did not trigger a sell-off among long-term investors
Not so long ago, Glassnode, a blockchain data and intelligence provider, concluded that long-term investors would save the uptrend. According to various estimates, they boast up to 81% of all coins in their wallets. So, long-term investors (those who hold coins for over 180 days) were not involved in the current correction, the company said. In other words, Bitcoin fell by $27,000 only due to short-term and small investors. If so, I'd like to ask one question. What is the point in assessing the potential of the trend by the number of long-term investors and coins in their wallets, if they still cannot avert a fall in Bitcoin? Most of the coins are held by large investors and the cryptocurrency can still tumble in price by a third within one month.
Another analytical company, Coinglass, reports traders lost about $1 billion on Saturday night when the cryptocurrency dipped to $42,000. In total, about 400,000 positions were closed on margin requirements across the entire cryptocurrency market. So, no matter how strong the positions of large investors and long-term investors are, Bitcoin is not immune from steep falls.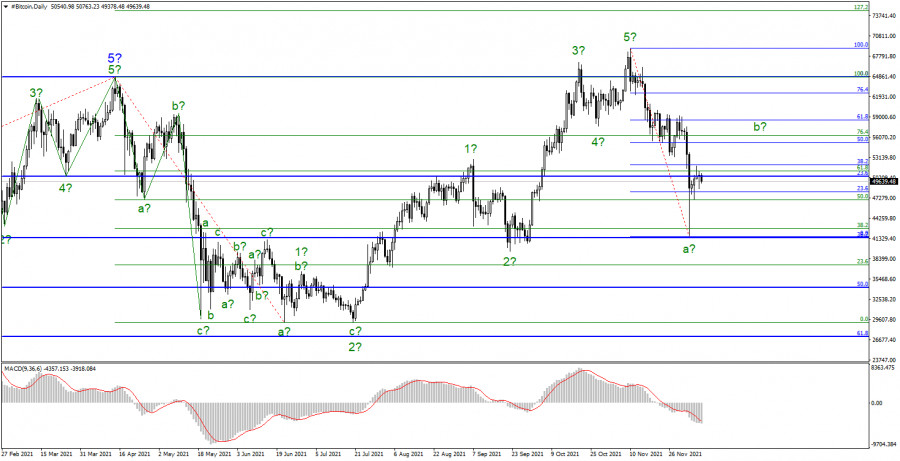 The current uptrend structure still looks clear. The wave layout cleared up after the instrument went above the high of supposed Wave 3. On the chart, there is now an impulsive 5-wave structure that began to form on July 20. However, over the past three weeks, the price has been pulling back from the highs, indicating the completion of Wave 5, which looks shorter. After plummeting by $27,000, the quote went up. So, these two sections could be waves (a) and (b) of the new corrective downtrend section. Therefore, the price is likely to rise within wave (b) with targets at around $52,077 and $55,295, in line with the 38.2% and 50.0% Fibonacci levels from wave (a). After the completion of this wave, a new descending wave (c) may start to form, with its low being well below the $41,700 mark.
The material has been provided by InstaForex Company -
www.instaforex.com
from
RobotFX