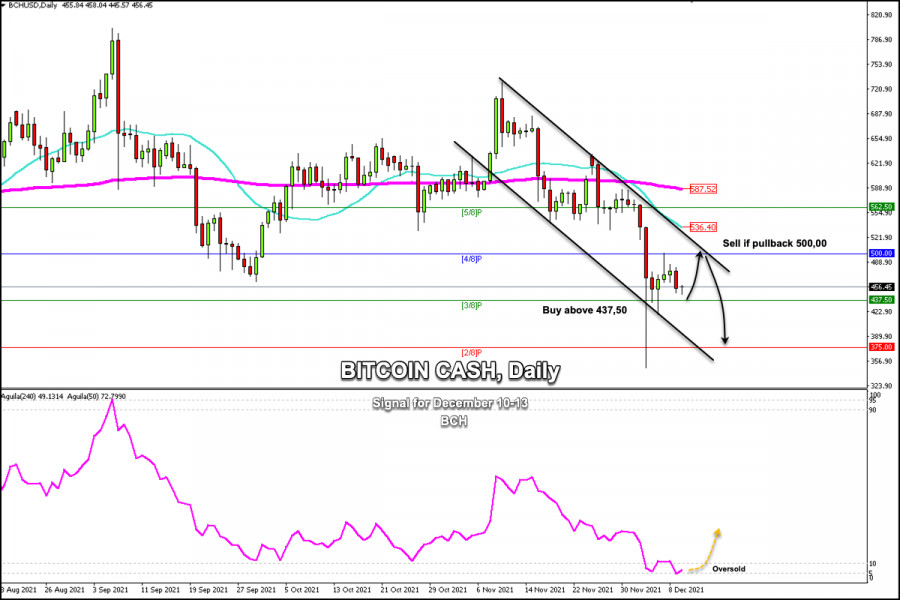 On December 4, Bitcoin Cash fell to the level of January 1, registering a low of 347.30. From that price level, BCH is rebounding and has recovered more than 40%. The psychological level of 500.00 is acting as a strong resistance. Below this level, it is expected to continue under downward pressure towards 2/8 of a Murray around 375.00
Bitcoin's price has entered a steady recovery phase after the recent sudden drop on December 4. This has helped BCH to rebound. However, it is likely to be part of a technical correction to resume its downtrend.
In the daily chart, we can see that BCH is trading within a downtrend channel. In the next few hours, a technical rebound is expected towards the top of the bearish channel.
The 3/8 Murray support at 437.50 will be a good opportunity to buy with targets at 500.00. The top of the bearish channel will continue to act as a strong barrier preventing BCH from appreciating. So, around this level of 500.00, it will be a good opportunity to sell with targets at 375.00.
The eagle indicator is testing the 5-point level which represents an imminent sign of a technical rebound for the next few days. Therefore, you can buy above 437.00 this is the 3/8 level which represents a range zone.
The SMA of 21 and the EMA of 200 are located above the current price, which adds a bearish tone to BCH. If it approaches 536.40 in the next few days, it will be a good opportunity to sell.
If BTC rallies and trades above 60,000, it will give BCH momentum to reach the resistance of 200 EMA located at 587.52. As long as BTC continues to trade below 50,000, BCH will remain under downward pressure and it is likely to fall to the support of 375.00.
Support and Resistance Levels for December 10 - 13, 2021
Resistance (3) 495,86
Resistance (2) 475,01
Resistance (1) 462,24
----------------------------
Support (1) 440,38
Support (2) 426,60
Support (3) 405,75
***********************************************************
A trading tip for BCH on December 10 - 13, 2021
Buy above 437,50 (3/8) with take profit at 500,00 (4/8), stop loss below 405,20.
The material has been provided by InstaForex Company -
www.instaforex.com
from
RobotFX