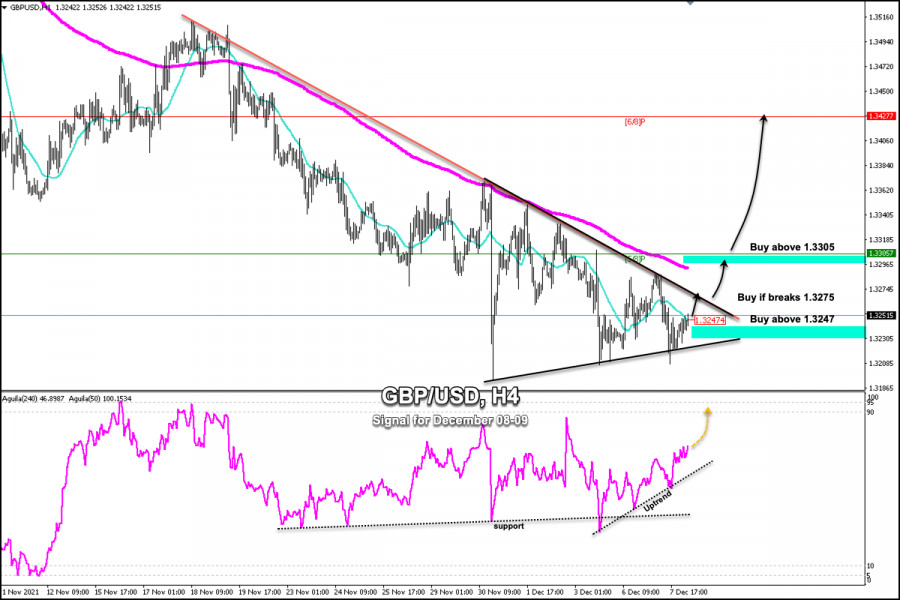 According to the 4-hour chart, we can see that GBP/USD is trading below the downtrend channel formed on October 29 above the 21 SMA. A sharp break above the downtrend channel could be the beginning of a new bullish scenario with targets towards the 200 EMA located around 1.3296. If this level is broken, the price may reach 6/8 of Murray at 1.3427.
In the 4-hour chart, GBP/USD began a formation of a symmetrical triangle. A break from this technical figure could be a positive sign. The confirmation will occur only if the pound trades above 1.3275.
In a long-term outlook, investors appear to be convinced that the Fed will raise interest rates around May 2022. This action by the Fed will put downward pressure on GBP/USD and it could fall as low as 1.25.
Now we hope that the currency pair gains momentum while waiting for the demand to increase to overcome the barrier of the bearish channel. You can buy only if the pair hovers above the 21 SMA at 1.3247. Above 1.3275, there will be a clearer buy signal and above 1.33 the uptrend will be established.
Our forecast for the next few hours for the British pound is a consolidation above 1.3247 (21 SMA). As long as GBP/USD trades above this zone, we will have an opportunity to buy with the target at 1.3287 (200 EMA) and 1.3305 (5/8). If 5/8 is broken, we could buy with targets at 1.3427 (6/8).
The market sentiment report for today, December 08, shows that there are 75.57% of operators who are buying the GBP/USD pair. This data provided a bearish sign in the medium-term. Since the pair is heavily oversold, a correctional movement to the resistance zone of 6/8 of a Murray is expected first.
The eagle indicator is showing a bullish bias, moving above the trend channel. The British currency could gain bullish strength in the next few days until reaching the resistance of 6/8 Murray around 1.3427. If it manages to consolidate above 1.3290 (200 EMA) then it could gain strength and a trade volume to rise to 1.3427.
Support and Resistance Levels for December 08 - 09 2021
Resistance (3) 1.3333
Resistance (2) 1.3305
Resistance (1) 1.3284
----------------------------
Support (1) 1.3203
Support (2) 1.3165
Support (3) 1.3123
***********************************************************
A trading tip for GBP/USD on December 08 - 09, 2021
Buy above 1.3247 (21 SMA) with take profit at 1.3305 (5/8) and 1.3427 (6/8), stop loss below 1.3205.
The material has been provided by InstaForex Company -
www.instaforex.com
from
RobotFX