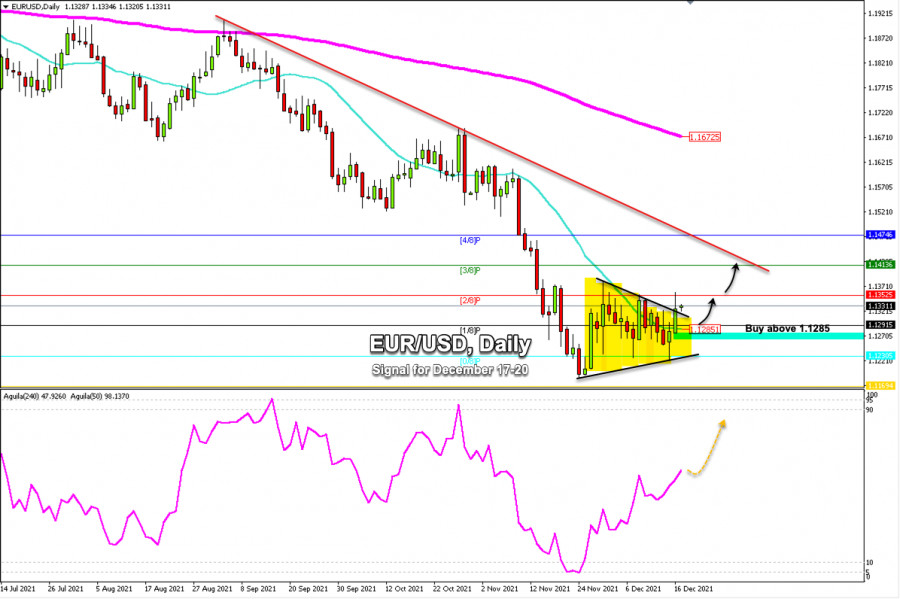 The EUR / USD pair rose on Thursday, breaking the 21 SMA located at 1.1285. The euro recovered from the downward pressure after the central bank of Europe announced that they are willing to tighten their monetary policy to control inflation.
President Christine Lagarde acknowledged that inflation is likely to remain above 2% for most of 2022, noting that she also expects economic growth to pick up strongly next year.
These data supported the momentum of the euro and it has made its first daily close above the 21 SMA and above 1/8 of Murray. As long as EUR/USD remains trading above 1.1285, a bounce around this zone will give us an opportunity to buy with targets at 1.1352 and up to 1.1413.
According to the daily chart, we can see that since November 24, the euro has been forming a symmetrical triangle pattern. The current break could confirm the bullish outlook for the next few days and he pirce is expected to reach the top of the downtrend channel located at 1.1420.
The medium-term outlook favors the negative side. The 200 EMA located at 1.1672 maintains the bearish position for EUR/USD. Any bounce towards this zone will be considered a correction and will give us an opportunity to sell with targets at 1.1230.
Our trading plan is to buy while the euro is above 1.1285. If in the next few hours there is a correction towards this zone, it will be a good opportunity to take a bullish position and hope that there may be a recovery to the level of 3/8 Murray at 1.1413.
The eagle indicator is giving a positive signal. It means that the currency pair is under buying pressure that could push EUR/USD to the overbought levels according to the daily chart.
Support and Resistance Levels for December 17 - 20, 2021
Resistance (3) 1.1403
Resistance (2) 1.1371
Resistance (1) 1.1352
----------------------------
Support (1) 1.1291
Support (2) 1.1244
Support (3) 1.1200
***********************************************************
A trading tip for EUR/USD on December 17 - 20, 2021
Buy above 1.1285 (21 SMA) with take profit at 1.1352 and 1.1413 (3/8), stop loss below 1.1245.
The material has been provided by InstaForex Company -
www.instaforex.com
from
RobotFX