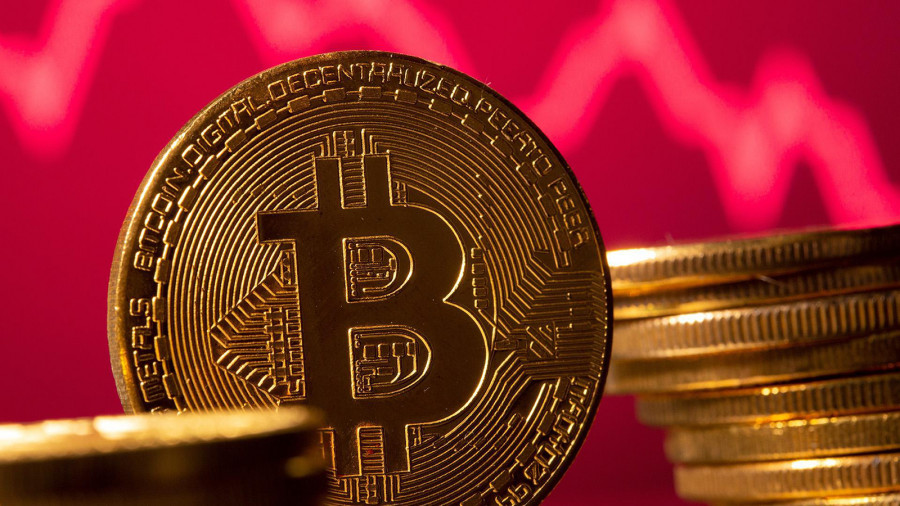 From a technical point of view, the "bullish" trend for bitcoin has already been broken. This is indicated by overcoming the trend line on the 24-hour timeframe (in the illustration below). Thus, the probability of resuming the march to the north is not too high now, in principle. The only thing that, from our point of view, shines now for bitcoin is a corrective growth since the fall has lasted for more than two months. During this time, there has not been a correction, and the total drop is already $ 27,000. However, even after the upward correction, we believe that the quotes of "digital gold" will be aimed at the level of $ 30,000, from where the last "bullish" trend began. We believe that the $100,000 mark should be forgotten for at least a couple of years since now the fundamental background for bitcoin is far from the best.
Normalization of monetary policy = death for Bitcoin?
Let's analyze it. Over the past one and a half to two years, bitcoin has risen by $ 60,000 (from minimum to maximum). Before the pandemic, it cost $8,000. Thus, during the pandemic, it has grown almost 9 times. What does this mean? How could a worldwide pandemic support cryptocurrency in general? It turns out to be very easy, through central banks that have started pouring hundreds of billions of dollars, euros, and other currencies into the economy. At least 50% of the last growth of bitcoin depended on central banks and their "ultra-soft" monetary policies. Now central banks are starting to abandon incentive programs, which means that in a few months there will be no more "free money". Moreover, key rates will start to rise slowly, which has always been a negative factor for risky assets. And it is very difficult to find an asset riskier than bitcoin. Thus, it doesn't even matter what decision was made by the Fed at the last meeting (although the decision was made important). The general course must be now taken not to stimulate the economy, but to normalize. Consequently, bitcoin may well return to the "starting positions" from where it began its growth two years ago. Of course, we do not undertake to predict a drop to $ 8,000, but we still believe that up to $20,000 "digital gold" may well sink. It should be remembered that bitcoin, after each of its global upward trends, then lost up to $ 80-90 in value. In addition, bitcoin is losing popularity among investors.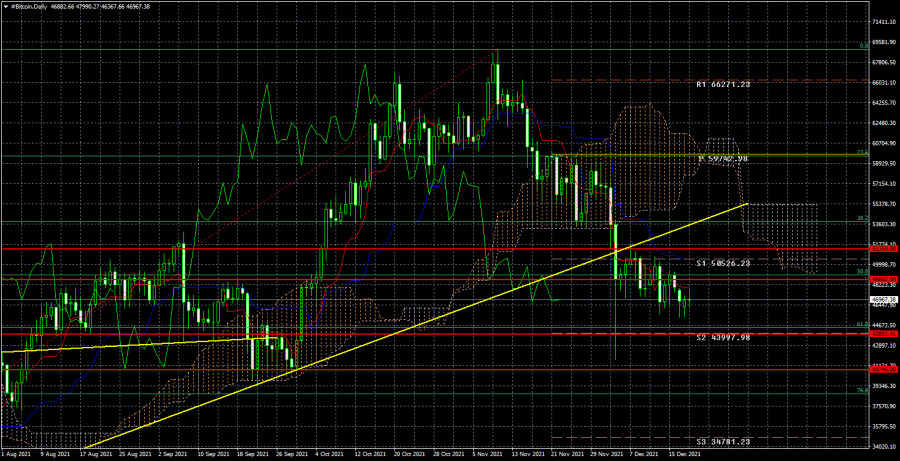 On the 24-hour timeframe, the quotes of "bitcoin" are fixed below the ascending trend line, so the "bullish" trend is broken. Consequently, the fall may continue. The nearest targets are the levels of $43,852 and $40,746. It is impossible to form a descending trend line now since there is simply no second reference point: the downward movement is almost recoilless.
The material has been provided by InstaForex Company -
www.instaforex.com
from
RobotFX